Pima Encouraging More Women to Pursue Engineering Degrees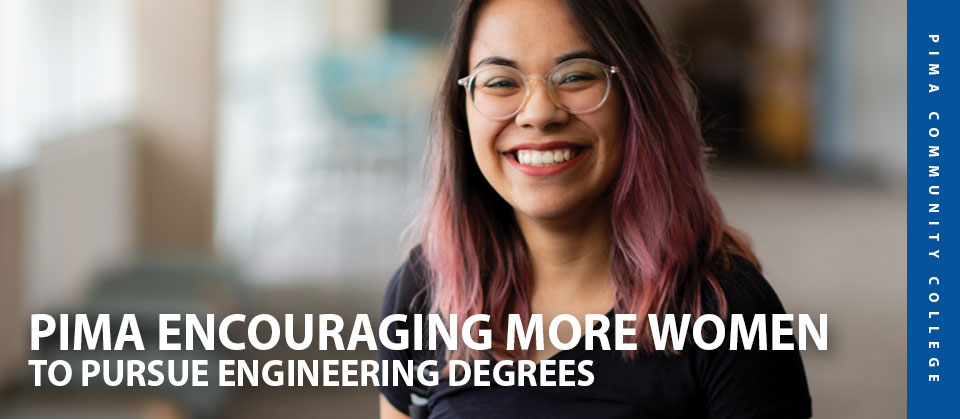 By Pima Staff
Pima Community College faculty and staff are working various angles to bring more women into the growing fields of science, engineering, technology and math.
Interest in STEM fields has been steadily growing at Pima since the early 2000s, reflecting a national trend. As of fall 2018, slightly more women than men are enrolled in Pima mathematics classes and significantly more in science classes (58% female).
Each of the past five years at Pima, only Liberal Arts and General Studies have conferred more degrees than Science.
Still, few women are entering careers in such male-dominated STEM fields as engineering. Only 13 percent of employed engineers in the U.S. are female, according to the Society for Women Engineers.
"I've had peers assume that I don't know basic concepts on the subject at hand," said recent Pima graduate Diana Picon, who wants to become an electrical engineer. "It is very unsettling to sit in a class surrounded by 30 males, being one of the two women in that class, and being told that you're 'exaggerating' about this inequality."
Picon earned an Associate of Science/Pre-Engineering Concentration. She starts at the University of Arizona this fall.
Pima wants to put more women on that path. Alexander Shayevich, Ph. D., Pima's Engineering Department Head and full-time faculty since 2003, regularly recruits undecided majors, especially women, into the program. He said the program always has an eye toward appealing to various types of students.
"Good representation of both genders in the workplace is associated with higher productivity," he said. "Women may think, act or approach problems differently and that is important for solving challenging engineering projects."
He noted that three female Pima Pre-Engineering students were accepted into this summer's Research Experience for Undergraduates (REU) program, a collaboration between UA and Pima for at least the past six or seven years.
"This is a great experience for PCC engineering students, they end up being more mature and more confident," Shayevich said.
Roslyn Norman, a Pima graduate and UA Mechanical Engineering major, has participated in REU.
"My ties at Pima led to launching a balloon with the NASA ASCEND program, participating in the NASA RockOn workshop, an internship at TEC Accessories (which creates quality accessories for hobbyists), the REU program at the U of A and my current internship at Paragon Space Development Corporation," Norman said. "My experience at Pima was invaluable and the best education I've received in my life."
Shayevich says Pima's small class sizes allow students to more actively participate in class activities and allow him to give more individual attention and better communicate with students – critical elements to learning in challenging engineering disciplines.
"People with these degrees make a difference in moving the world forward in a positive direction," said PCC Women in Technology co-chair Aleksandra Knezevic, IT Business Systems Manager in Pima's IT Enterprise Systems. "The number of jobs in STEM fields is increasing – and these jobs pay well. It is imperative that women reap the benefits and are involved in finding solutions."
PCCWIT, made up of Pima employees, works to increase the numbers of women in technology fields and has established a scholarship.
"To encourage young girls to get involved with engineering, I'd tell them that they shouldn't be afraid of all the Xs that come up in math; I promise they all make sense. But, it can be hard to understand," said Picon, who grew up in Nogales, Son., and calls her mom a great lover of science and engineering. "If you're not good at something from the beginning, you shouldn't be afraid to ask for help."
Kisha Calbert, Pima's program advisor for Science, Technology, Engineering and Math, and Fitness and Wellness, said it is important for young girls and women to see women in STEM and other traditionally male fields. As an advisor, she taps into her professional experience in the male-dominated field of athletic training.
"My dad is an engineer/physicist. He and several of his friends were the first African-American men who were in some of these fields," Calbert said. "In fact, when I was a child, I thought there were a lot of black men that did what my dad did. Representation matters.
"Each person has their own perspective on the world, has their own cultural ideas that can influence how they think and feel and society needs to be better about embracing all of these things as we look to understand the world and how it works."
Picon said Pima's affordability put a college education within her reach, but it also gave her great mentors and opportunities to advance in her career.
"I think the best I can do is to be the example of what I want to see more women doing," Picon said. "I'll talk to girls about all the things that I get to learn, the projects that I've made, the machinery and programs that I've worked with. I think it's much easier to understand why people like engineering in the first place when you can see the product of it all."
Top 10 Engineering Degrees for Women 2016-17
Mechanical
Chemical
Civil
Biomedical
Computer Science
Industrial/Manufacturing/Systems
Electrical
Computer Engineering
Environmental
Metallurgical & Materials
Source: Society of Women Engineers