Training Air Force Paramedics

Community Partnerships
By Jamila Caamaño
Pima is the first community college nationally to partner with U.S. Air Force Medical Operations for such training
Pima Community College again has been awarded a five-year contract from the U.S. Air Force Medical Operations Agency to train paramedics.
"Pima's comprehensive training is top-notch," said MSgt. Richard Carvajal, Operations Manager for the Air Force Medical Operations Agency. "The practical experience prepares them for success in the field."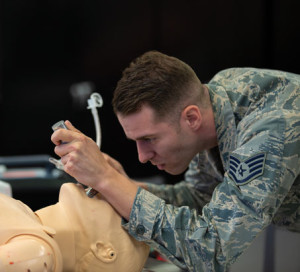 Through this one-of-a-kind partnership, Pima has trained more than 200 airmen since August 2014, when the first contract started. The new contract runs through September 2024. Airmen who complete Pima's program have been assigned to bases around the U.S. and overseas. Graduates have been credited with saving lives. One grad received a commendation medal from the U.S. Army for his actions in the Middle East and another was recognized for saving a baby's life.
The program boasts a 98 percent pass rate on the national credentialing exam, exceeding the national 88 percent pass rate.
Noting that military medics do not have civilian credentials, Carvajal said this certification makes them more marketable when transitioning from the military to a civilian job.
"It is an invaluable experience," said Senior Airmen Dylan Strickland.
With the ride-alongs, clinical rotations and realistic simulations using the robotic cadaver, Strickland said he was able to experience situations that he would not have been exposed to on base.
"This experience will help me save lives in the future," he said.
Strickland, who completed Pima's program this past spring, aspires to continue his medical education and become a trauma surgeon.
Pima EMT Students Join AZTEC Emergency Medical Services at Soccer Games
From heat exhaustion to leg injuries to crowd management, an average soccer game might rack up more medical situations than goals.
That's why Pima's Emergency Medical Technology (EMT) program has partnered with the Arizona Training and Education Center (AZTEC) to provide coverage at the 2019 FC Tucson season home games at Kino Stadium.
"Providing standby coverage at large events like this falls within the job description of EMS providers," said Laura Pieslewiz, instructor for Pima's EMT program. "The partnership with FC Tucson allows our students to experience firsthand the immense preparation and coordination that is involved in mass gatherings like this."
Pieslewiz said, over the course of the semester, students gain experience working with ambulance companies, fire departments and hospitals.
"This exposure helps students realize the employment options that are available," she said.
"Certification as an EMT can be a fulfilling lifelong career as well as a gateway to many other avenues in the medical field," Pieslewiz said. "It is very common for our graduates to advance to higher levels of training."
Pima offers several certificates and degrees for careers in public safety and security.
Learn more pima.edu/psesi