Undergraduate Research Helps Student Realize Her Passions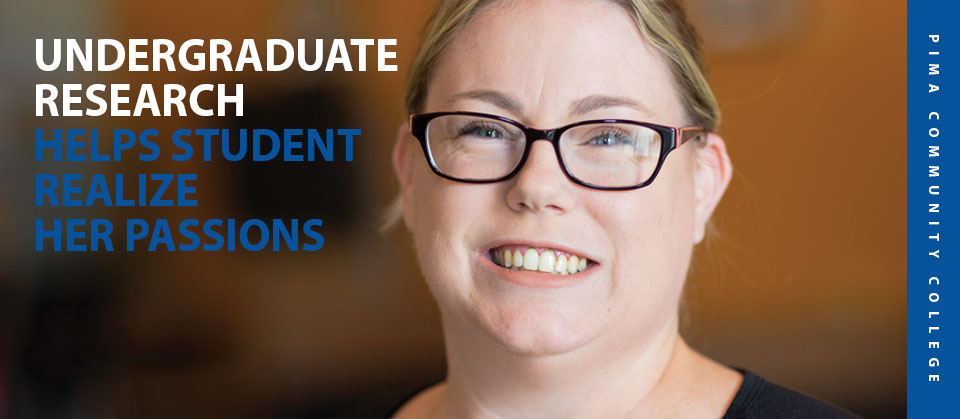 By Jamila Caamaño
Not just a university thing – students at Pima also benefit from research opportunities
There are numerous benefits for undergraduate students who get involved in research at the community college level, including the increased likelihood that they will continue their education at a four-year university.
Jennifer Marie Johnston, a 2017 Pima Community College graduate who received an Associate of Arts, Liberal Arts (Psychology) and Arizona General Education Curriculum-Arts (AGEC-A) certification, said research played an important role in helping her determine her educational and career interests.
"Research enhances your knowledge, opens up your understanding of issues and helps you realize your passions," she said.
Johnston worked with Laura Pieslewicz, instructor for Pima's Emergency Medical Technology program, to send more than 300 anonymous surveys to first responders. The survey asked about their exposure to traumatic events, the effects of repeated exposure and whether they sought behavioral health support as a result. Johnston presented her research at the Arizona Undergraduate Student Research Symposium in 2017 and 2018.
"Many people do not realize how many traumatic events there are and how many first responders are really having difficulty," she said. "Figuring out how to shift the culture of first responders seeking mental health services became my objective, my passion."
The noncompetitive research symposium, sponsored by PCC West Campus Student Life, offers an opportunity for undergraduate students in Arizona to present original research, making it the only one of its kind in the state.
"The experience was amazing," Johnston said. "The symposium was an excellent way to get feedback on my work."
While Johnston has high praise for the symposium, she credits Pima's liberal arts classes with providing a strong foundation in psychology and helping her gain critical thinking and problem-solving skills.
This past spring, Johnston completed her Bachelor of Arts degree in Psychology from Northern Arizona University and is looking forward to working with first responders. Eventually, she plans to publish her research, earn a master's degree in counseling and, perhaps, pursue a doctorate and open her own private practice.
The career outlook for mental health counselors is expected to be very good, particularly for those with a bachelor's or master's degree. The U.S. Bureau of Labor Statistics predicts that through 2026 the number of jobs in the field will grow by about 23 percent, which is much faster than the average for all occupations.
Undergraduate research at community colleges
Undergraduate research:
is a powerful pedagogy for underrepresented students
has the potential to increase retention and transfer to a four-year program
can help students develop skills necessary for a qualified 21st century workforce
Source: 2015 peer-reviewed paper Embedding Undergraduate Research in the Community College Curriculum, by Nancy H. Hensel and Brent D. Cejda
To get more information about the Arizona Undergraduate Student Research Symposium or to volunteer at the event, email Dianna Repp, Ph.D., drepp@pima.edu.
Pima offers several transfer degrees that enable students to complete their mandatory lower-level course requirements before transferring to a four-year college or university.
To learn more, go to pima.edu/program/transferprograms