FOR 50 YEARS, PIMA HAS BEEN OF, BY AND FOR THE COMMUNITY
By Pima Staff
For our 50 years in existence, Pima Community College has taken the "community" in our name to heart. That's because we know that when we work together with the community, we can do so much.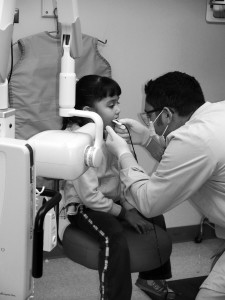 Throughout our history, we've partnered with civic, private, governmental and educational organizations on countless initiatives. Our students and employees have contributed volunteer hours to various endeavors. We've provided space and services. The stories here represent just a few of the ways in which Pima and the community join forces to make good things happen.
Give Kids a Smile
Since the mid-1990s, Pima's Dental Studies Program has worked with local dental off ices and other community groups to provide thousands of uninsured children with free dental hygiene services.
In 2019, Pima's Dental Clinic at West Campus hosted Give Kids a Smile, with 124 Pima and community volunteers coincidently serving 124 children. The previous three years, Southwest Kids Dentistry hosted. The 2020 event will be Feb. 15 at Pima's Dental Clinic. Interested families may register at tucsonkid.com or 520.775.1245. Arizona Dental Foundation secures sponsors and coordinates the event with a planning committee that includes Pima employees.
"Our dental assisting and dental hygiene programs have a number of community service events they participate in as part of their educational process," said Dawn Stevens, Dental Clinic manager. "The dental professions are very community minded in their foundation."
Dentists and their staff from throughout the community – many Pima graduates – provide restorative care at the event as time allows and often complete a child's treatment in their off ices at no cost to the family.
Dental Studies faculty and most adjunct faculty regularly volunteer at the event. Second-year Dental Hygiene students participate as part of their education. Dental Assisting students and first-year Dental Hygiene students also volunteer, providing oral hygiene instruction, taking X-rays, doing cleanings and applying sealants.
Pima has participated in the American Dental Association's Give Kids a Smile initiative since it was launched in 2003 and also collaborated for many years prior with the local dental community, area school districts and the Pima County Health Department to provide oral hygiene instruction and care.
FEEDING THE HUNGRY
Pima also has partnered with the Community Food Bank of Southern Arizona on various efforts, including one to address food insecurity among college students. According to the HOPE Lab in San Francisco, 56% of U.S. community college students reported food insecurity in 2017.
In early 2019, Pima worked with the Community Food Bank to open food pantries at Pima's West and Desert Vista campuses. The Aztec Resource Centers (ARC), staffed by student and employee volunteers, are open to all students.
"We encounter students who are struggling to work and attend school full time, who are supporting families, who are homeless. What these students have in common is a need for an accessible, stable resource for food and hygiene items, and we fulfill that need daily," said Rachael Lord, a Pima Social Services faculty member who helped establish the ARCs.
Last fall, Pima's food pantries served between 450 and 550 Pima students each month. Besides providing nonperishable food items and free toiletries, the ARCs also offers students referrals to community resources. To learn more or to donate money, toiletries or nonperishable food items, email pcc-arcpantry@pima.edu.
CREATING A SCIENCE ADVENTURE
Each November, Pima's Northwest Campus hosts the Arizona STEM Adventure, which draws about 1,000 elementary and middle school students to the campus for a day of fun and learning.
"We welcome the opportunity to get children excited about science, while also showcasing the excellent science facilities available at Pima," said Campus President David Doré. "The ultimate purpose of the event is to encourage a life-long interest in STEM careers."
Teachers apply to attend Arizona STEM Adventure and are notified of their selection in early October. Approximately 40 organizations send their scientists, engineers and educators to provide demonstrations and hands-on activities. The fourth through eighth graders spend a day doing such activities as making silly putty, handling fossils, insects and live snakes, learning about robotics, using a solar oven to bake cookies, designing structures with LEGO®s, and more. Meanwhile, their teachers spend the morning in professional development learning how to incorporate STEM into their lesson plans to help students with science or engineering project for an upcoming SARSEF Fair.
The Arizona STEM Adventure is co-sponsored by Pima, SARSEF (Southern Arizona Research Science and Engineering Foundation), IBM, Raytheon, the STEMAZING Project, Office of the Pima County School Superintendent, and the University of Arizona STEM Learning Center.
STRENGTHENING ARIZONA ONE BUSINESS AT A TIME
The Small Business Development Center (SBDC) at Pima provides no-cost, one-on-one consulting and no-or low-cost workshops to anyone who wants to start a small business or who already owns a business.
The SBDC is the result of a partnership with the Arizona Small Business Development Center Network (AZSBDC), the U.S. Small Business Administration and the U.S. Department of Defense. In 2018, the center helped 36 new businesses start and was responsible for creating or retaining 235 jobs in Tucson, along with creating more than $11 million in new capital and $15 million in business growth through its programs and services.
Pima's SBDC is an invaluable resource, said Gwen Howell, owner of Doulos Concrete, which was recognized last year by the AZSBDC Network as an outstanding business.
"The SBDC was instrumental in getting Doulos Concrete off the ground," she said. "Their events, workshops, classes and dedicated one-on-one counseling made our dream of business ownership a reality."
"Having this opportunity to support entrepreneurs and small business owners through our partnership is extremely meaningful," said Ellen Kirton, director of the Pima SBDC. "Small businesses are the lifeblood of our communities—when they thrive, our communities thrive. "
Pima SBDC received the 2019 Arizona Small Business Development Center of Excellence award for its record of success, innovation and economic impact. Services range from answering startup and business structure questions to assisting with business plans, marketing plans and loan information. For more information, call 520.206.4580.