Chancellor's Letter to the Community

BUILDING OPPORTUNITIES, BREAKING BARRIERS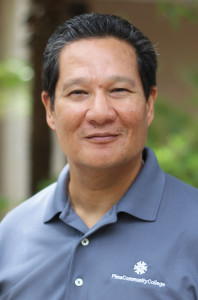 In 2020, Pima Community College will hold a wide range of events to mark a half-century of service. We will invite our region's diverse communities to join us as we look back at our first 50 years of furthering student success. In April, we literally will dig into our past when we unearth a Pima time capsule buried in 1995 at West Campus. (You can read about another major commemoration, our 50th Anniversary Gala, here).
But even as we celebrate our history, Pima will mark 2020 by launching major new initiatives to help current and future students to thrive in the coming era of technological transformation.
Our Center of Excellence in Applied Technology, under construction at Downtown Campus, will be a cutting-edge academic and neighborhood hub (read more). Students will be taught industry-approved coursework by instructors whose real-world experience is enhanced with the latest training. Students will learn on state-of-the-art equipment in three rapidly expanding economic sectors: Transportation Technology, Advanced Manufacturing and Infrastructure. Similar Centers of Excellence are planned in the Arts, Health Professions, Hospitality Leadership, Public Safety and Security, and Information Technology and Cybersecurity. Each year, hundreds more students will emerge from Pima and enter relevant, meaningful, well-paying careers.
While we are building up, Pima also is tearing down a significant barrier to the benefits of higher education: cost. Pima is proud of its historically low tuition, but we know the cost of attendance comprises more than tuition and fees. To make Pima even more aff ordable, we are the first community college in the U.S. to partner with the Earn to Learn scholarship program.
Students qualifying for Earn to Learn will receive $8 in scholarships for every $1 they save. This funding will augment the federal need-based Pell Grant program. Earn to Learn recipients also receive financial capability training and career counseling. As Earn to Learn founder and Chief Executive Officer Kate Hoff man explained it, the partnership is building pathways to jobs and prosperity in Arizona. Visit earntolearn.org to learn more (also — read about more ways to find scholarships here).
Ultimately, Centers of Excellence and Earn to Learn are about fairness. Pima acknowledges that students come to us with diff erent backgrounds and needs. For the past 50 years, our mission has been to transform all students – no matter where they came from, no matter what they need to overcome – into an engaged citizenry equipped with the skills and knowledge to remain relevant in a rapidly changing world. Every day, we keep striving to fulfill that mission.
Lee D. Lambert, J.D.
Chancellor