Great Things are Happening at Pima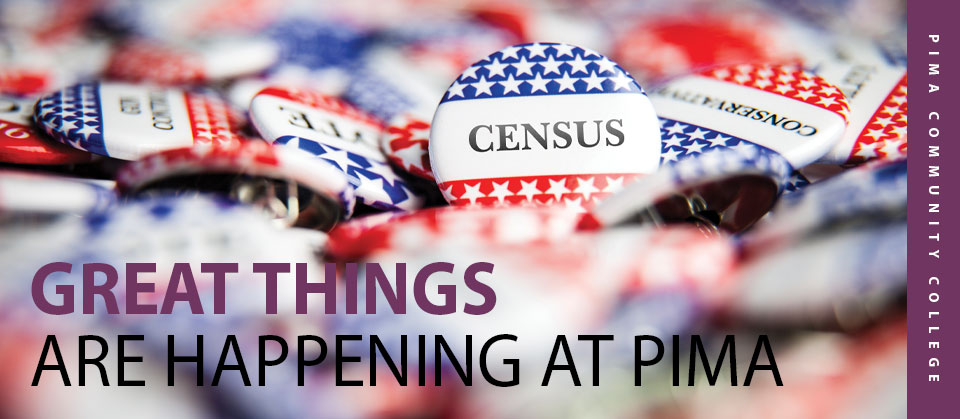 50TH ANNIVERSARY GALA TICKETS ARE AVAILABLE
Pima Community College will celebrate our five decades in service with a 50th Anniversary Gala. The event will take place 5:30 to 9 p.m., April 9, at Westin La Paloma Resort & Spa. Proceeds will support the PCC Foundation and its new partnership with Earn to Learn, a scholarship program that empowers low-to moderate-income students in Arizona to successfully complete college.
For sponsorships and table reservations,
call 520.206.4646, email PCC50th@pimafoundation.org or
visit pimafoundation.org/50th-anniversary-gala.
JOIN US FOR HISTORY, CARS, FASHION AND FUN
Time Capsule Opening: Time TBD, April 8, northwest corner of West Campus, by the track. In 1995, Pima created and buried a time capsule. Join us as we open it.
More details will be announced soon at pima.edu.
» Tucson Street Rod Association 46th Annual Rodders Days car show: 9 a.m.-3 p.m., April 25, west parking lot at Downtown Campus. The event is free to spectators; parking is also free and plentiful.
» Fashion Show: Time TBD. May 3, Casino Del Sol. This annual event features the fashion creations of Pima students. See pima.edu closer to the event for more details and ticket information.
NEW LOCATION, SAME GREAT SERVICES AND RESOURCES
Pima's Adult Basic Education for College and Career and High School Equivalency is now located at Downtown Campus, 1255 N. Stone Ave. You can find Adult Ed in the AH Building, Room 130.
Adult Basic Education off ers free programs and opportunities to:
» Prepare for High School Equivalency (HSE) diploma
» Take online GED. classes
» Take the GED. test and civics test
» Learn or improve English-language skills
» Prepare to become a U.S. citizen
» Increase basic skills in math, reading and writing
» Build readiness to transition into college and career
» Study for a diploma and a technical training program at the same time (IBEST certificate programs)
To learn more, call 520.206.7330 or visit pima.edu/adulted.
BE COUNTED!
Pima is part of a coalition led by the Pima Association of Governments to tell students about Census 2020. A key message for students: An accurate count leads to better decisions on issues important to teens and young adults.
In addition to a comprehensive civic education campaign, Pima plans to place dedicated computer terminals at each of its five campuses for students to use to complete the census form online.