Ask Ryan: College in the Time of Corona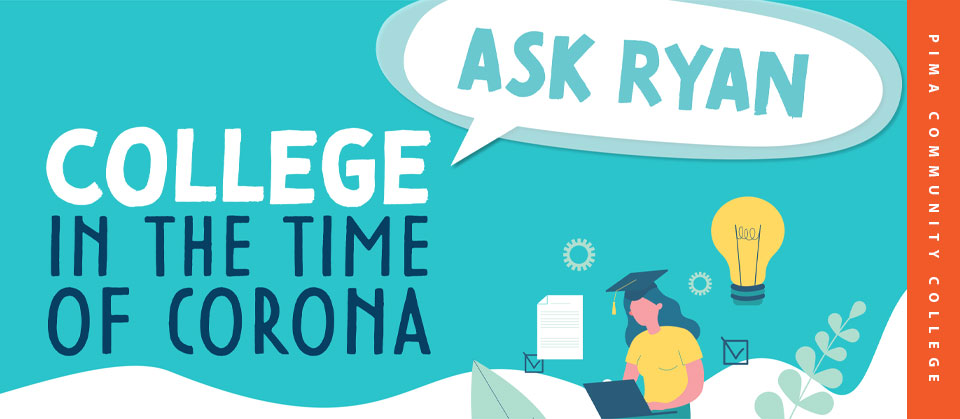 Dear Ryan,
I'm a senior in high school and I remember you coming to Junior Parent Night at my school last year. When we last talked, I had an idea about how I was going to approach college, but now with COVID-19 I'm not sure how I should plan and prepare. Do you have any tips for me on how to approach college under these new challenges?
High School Senior
Dear HS Senior,
Start Early.
These are very difficult times. Now, more than ever, many of us are having to recalibrate and think differently about our goals and what's most important to us. Typically, I advise that high school students
meet with their school counselor to ensure they've completed requirements for their diploma;
stay organized by making a list of deadlines and important dates;
talk with teachers about letters of recommendation weeks before they are due (ask politely and say thank you);
take the ACT/SAT® (study and practice beforehand);
apply to college by completing the application process;
and explore financial aid opportunities through FAFSA and scholarship searches.
While this is valuable advice in preparing for college, here are some additional steps, given the pandemic's impact on everyday life:
Research online class offerings and programs of study that you can complete virtually.
Pima's online programs provide all the knowledge and skills you'll need to succeed. You can complete your General Education requirements so that transferring to a four-year university will be seamless, or you can enroll in a direct-employment program that fits your interests and long-term goals. Examples of these programs are Computer Information Systems (including cybersecurity), Early Childhood Education, Health Information Technology and Human Resources, to name a few. Check out pima.edu for a complete list of Pima Online programs.
Find an alternative to visiting campus.
Check out the College's new website, which is easy to navigate and find resources on scholarship opportunities, academic advising, information sessions for your program of study and how to apply for admission to the College. You also can seek career counseling and receive help with interview preparation through the Big Interview resource, which can be found in your MyPima Student portal under Student Resources
(mypima.pima.edu).
Become familiar with online learning.
Since you may not be taking classes in-person, you'll have to transition to online learning and hybrid learning (a mix of online and in-person instruction). Take a few steps to plan your day with an in-home schedule, create a designated work space, communicate challenges to your instructors and set up virtual study groups when you can. The College uses D2L (Desire2Learn), which is where students upload assignments, respond to discussion posts and do everything else that they would do in an in-person class. You can get 24/7 support on d2l.pima.edu or through the MyPima Help Link at the bottom of the screen.