Pima adapts to COVID-19 with virtual events, presentations (and classes, of course)
By Pima Staff
Most people know the saying, "the show must go on!" And at Pima Community College, we made sure it did.
In March, when Pima announced it was cancelling in-person classes, services and events due to the COVID-19 crisis, our faculty and staff resolved to make sure that many events, especially Graduation, went on in an online environment. Organizers quickly shifted from planning logistics and details unique to in-person events to learning new online technologies and platforms. They believed it was important to provide students with opportunities for connection during the self-isolation of the pandemic.
Virtual Graduation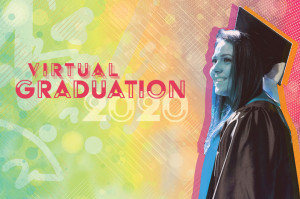 Graduation is Pima's largest and most important annual event, filling the Tucson Convention Center Arena one day every May to honor those completing degrees and certificates.
So, as soon as Pima cancelled the in-person graduation ceremony, the College's Graduation Committee started exploring Web alternatives. The Virtual Graduation, offered as a Facebook Live and YouTube live streaming event on May 21, combined traditional parts of Pima's ceremony with features of Multicultural Convocation and various program completion ceremonies. By the end of May, the ceremony had nearly 15,000 views between the two platforms.
Special Events Manager Christy Camargo said her biggest challenge in re-thinking the event was "getting smart in social media" and figuring out the best ways to mark this significant achievement for students.
"There are many ways to create excitement and celebration even during a time of uncertainty," she said, adding that she expects to incorporate virtual platforms into future in-person ceremonies.
"Virtual platforms add another level of engagement, especially for those unable to attend the in-person event," she said. "Future graduation ceremonies will turn into hybrid events, incorporating the in-person experience and virtual connection into constant contact, creating excitement for all ages."
See Virtual Graduation highlights.
The 5th Annual Ethnic, Gender & Transborder Studies (EGTS)
VIRTUAL Summit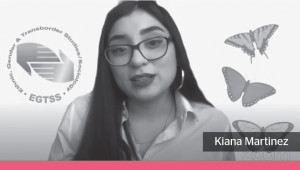 There was little doubt that the EGTS summit would go on, despite the production and technological challenges of changing mid-planning from an in-person to a virtual event.
"We persevere and overcome," said Francisca James Hernández, Ph.D., Pima's Ethnic, Gender & Transborder Studies and Sociology department head.
The virtual summit, held April 28, was the first of its kind in Pima's history. It had 1,600 hits on YouTube the day it streamed live and raised a modest sum of money for student scholarships. Audience members interacted with presenters in real time through YouTube chat.
A Pima work group met six times during the semester to organize the summit and convert it to cyberspace in less than five weeks. A Pima production team met for another 12 hours to do audio and video checks, and practice runs on Zoom, with 16 presenters connecting from both coasts and around Arizona, along with seven moderators from Pima.
"This experience was amazing!" said Kiana Martínez, an EGTS student, event moderator and member of the event work group. "Everyone on board was very welcoming and kind, and some of the hardest workers I have ever worked with."
Annual Student Art Exhibit
The Annual Student Art Exhibit went live in May on pima.edu, featuring 75 works from the academic year: http://ow.ly/P5qF50zuv1c. Usually the exhibit is displayed at Pima's Louis Carlos Bernal Gallery.
Arts Division Marketing and Publicity Coordinator Carina Lisalda-Garcia worked closely with Bernal Gallery director David Andres and the College's Web Systems office to develop the virtual exhibit.
"When we're getting ready to promote an exhibit, David and I are used to working side-by-side, on the same computer," Lisalda-Garcia said. "However, this time we had to do all the planning through Google Meet. But, it was surprisingly easy."
Performing Arts Ensemble Students Share Individual Work Online
Pima's arts program instructors and students used online meeting tools and various platforms, including Zoom and Google Meet, to present final works.
Because video and audio speeds and quality vary based on the Internet connection and other factors, a group playing in unison is not a viable online option, said PimaOnline Arts and Humanities Department Head Mark A. Nelson, D.M.A. So, end-of-semester concerts and performances showcasing student talent were not an option. Instead, students across its arts programs – from digital arts, to performing arts to visual arts – shared their work individually through such platforms as Zoom. Then, instructors combined the content into finished pieces.
Nelson said students contributed to experimental pieces, including "Patterns and Pulses for Pima (COVID 19 Virtual Band)" which he wrote, and the more traditional Percy Grainger masterpiece, "Lincolnshire Posy."
Arizona Undergraduate Research Symposium
Changing to a virtual format was not the only impact COVID-19 had on the 11th Annual Arizona Undergraduate Research Symposium. Symposium organizer and Pima Anthropology faculty Dianna Repp, Ph.D., added a Lived Experience section with two COVID-19-inspired categories. The symposium's proceedings, which included students from Mexico, the Middle East, the Navajo Nation and Zimbabwe, as well as the U.S., went live online May 8.
"The Lived Experience reflections are insightful, provocative, and at times, whimsical," Repp said. "They offer hope, encouragement and resilience."
She said because the format reached more people and gave students another way to share with their loved ones and sponsors, a Web version of the proceedings will be integral to future events.
"In these days of social distancing, the ability of the website to transcend time and space is an important benefit, allowing a wider audience a way to connect with each other," Repp said.
RISE UP Women's Empowerment Conference
Pima's Student Life took the lead in a belated May celebration of Women's History Month. West Campus Student Life Coordinator Jennifer Wellborn said organizers of the RISE UP Women's Empowerment Conference were pleased overall with the virtual event. Student Life, and Pima's Center for International Education and Global Engagement (CIEGE), and the Diversity, Equity and Inclusion Office collaborated to offer Pima student, faculty and staff presentations.
"I was thrilled with the level of engagement throughout the program," said CIEGE's Daisy Rodriguez Pitel. "Participants not only shared their questions, insights and experiences orally, but many also contributed using the chat feature of Zoom."