Behavioral Health Specialist Training Opens Doors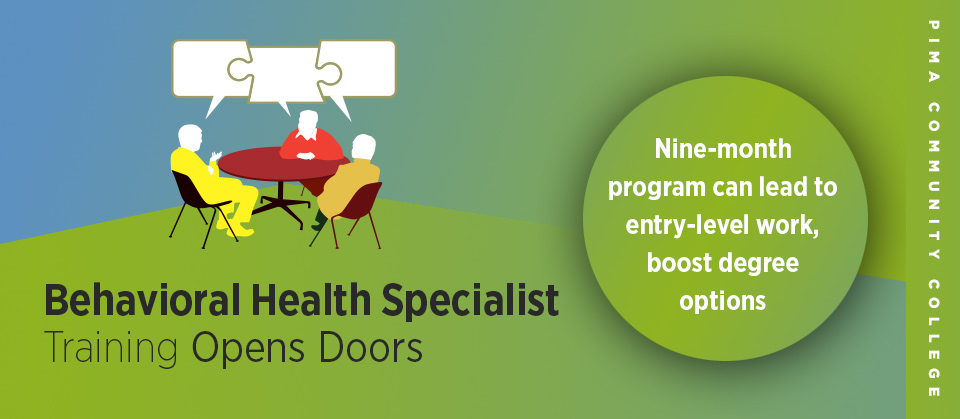 Gary McGinnis hopes to build on his skills as a certified recovery support specialist to become a behavioral health technician and a certified substance abuse counselor.
Corinne Perez hopes to complete her studies at The University of Arizona to become a counselor.
Both decided that Pima Community College's Behavioral Health Specialist (BHS) training was the best choice for their next step.
"I want to work at an administrative level, maybe in public health. This is fast-tracking my college credits," said McGinnis, who had been piecemealing courses in Pima's substance abuse counseling certificate program and wants to earn a bachelor's degree. "I'm fine-tuning the academic skills that I'd never acquired earlier in my life to open up career opportunities in the immediate future."
McGinnis and Perez are in the first group, or cohort, in the BHS training program that began in January.
PCC's Center for Training and Development added the program after years of collaboration with local industry, especially University of Arizona Medical Center and the Community Partnership of Southern Arizona, the umbrella organization for many behavioral health operations in Pima County.
"The classes also have helped reinforce that, no matter who you are or where you come from, you always have something to contribute."
McGinnis works at the nonprofit Crisis Response Network of Southern Arizona, on the UAMC South Campus, where the BHS classes are held in a classroom at the Behavioral Health Pavilion. The two-year-old pavilion provides inpatient and outpatient services, as well as emergency medical and behavioral health services.
"It gives the students a sense of reality – during their class breaks they can see people checking in or being discharged," said Steve Sanders, who teaches Communication Skills in Behavioral Health Services, and Clinical Behaviors.
The 16 students in the cohort take one class three evenings a week for five weeks, then the next class starts. The nine-month program concludes after a 60-hour supervised clinical observation.
"We set up at least two different environments for them to do their 60 hours, with at least one in an inpatient setting," said Autumn Palmer, who teaches Behavioral Health Lab and Safety Protocol and is a CTD Student Services counselor.
The BHS instructors and guest lecturers have decades of varied counseling experiences. For example, Sanders has a master's degree in psychology and his 40-year career included work as an adult probation officer, alcohol and drug abuse counselor and corrections counselor.
Among the topics Sanders covers in his courses are the main types of clients that professionals encounter, as well as the differences between being a therapist and a counselor. He drives home the points throughout the courses, often through role-playing exercises for Motivational Interviewing.
Perez, who starts her bachelor's degree studies in psychology at UA this fall semester, said she grew a lot through those exercises.
"It's a supportive environment with the cohort-support and coaching," said Perez, who quit earlier psychology studies at Northern Arizona University due to medical issues, but in 2011 earned a liberal arts associate degree from PCC. "It's not something that I've experienced at a university or even in my earlier Pima classes."
Behavioral health technicians work in a variety of public and private venues caring for and supporting the mental and emotional well-being of clients and patients.
The U.S. Department of Labor expects jobs for behavioral health technicians and other social and human service assistants to grow by 28 percent from 2010 to 2020, faster than the average for all occupations. According to the firm Economic Modeling Specialists Inc., in that same span, Pima County will see 18 percent growth for both behavioral health specialists and psychiatric technicians.
"This is a very good program for people just entering the field or who are at an entry-level job and want to move up," Sanders said. "It is a good career move once you get the BHT certification from the state."
People with limited incomes may qualify for financial and other support services through a federal grant. For more information on the training, contact the PCC Center for Training and Development, 206-5100. CF