Make a Living Wage, Set Your Schedule and Chart Your Own Path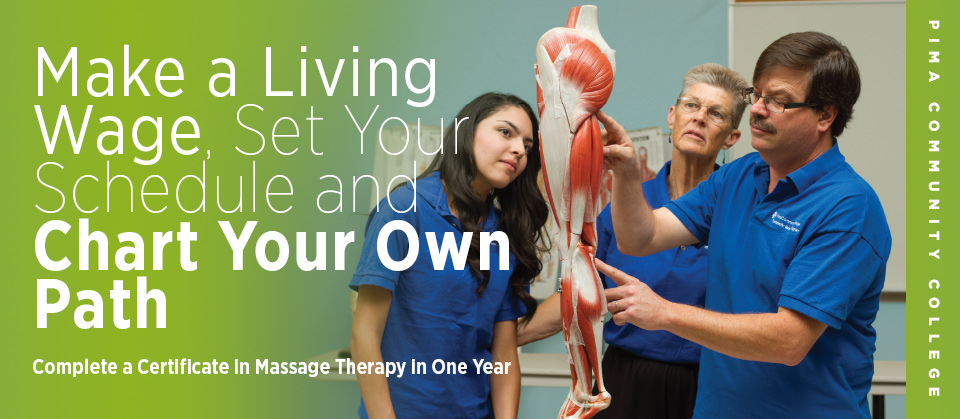 Complete a Certificate in Massage Therapy in One Year
Michelle Campuzano knew she wanted to do meaningful work, helping people in pain find relief. But her career as a massage therapist doing just that came more by happy accident than by design.
"I didn't think about becoming a massage therapist," said the recent graduate of Pima Community College's Therapeutic Massage (TMA) program. "I thought the program was physical therapy and didn't realize it wasn't until about a week into the program. I decided to stay and I ended up being good at it. I really think that it was meant to be."
In addition to providing the satisfaction of helping others, a career as a massage therapist offers a good wage, flexible scheduling and opportunities for entrepreneurship and self-employment. According to the U.S. Department of Labor, the median annual salary for a licensed massage therapist is $37,315.
" They are definitely well-equipped as far as all of the modalities of massage therapy."
Pima offers a two-year Associate Degree of Applied Science in Therapeutic Massage and a certificate that can be earned in just one year through a new accelerated program or on the student's own timeframe.
The College's program is grounded in the anatomical sciences – anatomy, physiology and kinesiology, said Janet Vizard, lead faculty for TMA.
"We really want students to understand the body," she said. "Many people think the anatomical sciences training here is comparable to that used to prepare people for fitness, nursing and medical degrees."
Students then learn the theory and practice of massage techniques, including Swedish, deep tissue, sports massage and more, preparing them to work in a variety of settings. Also covered are business, ethics and communication skills, with a heavy emphasis on professionalism in all aspects of the program.
Pima's TMA certificate entails 940 hours classroom and clinical practice contact hours, surpassing the 750 hours required by the state for licensing. The degree totals about 1,000 hours.
"It was intensive, but because the classes were very small, we got one-on-one time with our teachers," said Campuzano, who works at L spa Therapeutic Massage & Skincare. "The teachers are highly educated and really know what they are talking about."
Pima graduate Alma Garcia, who also works at L spa, said both employers and clients "like the idea that I've had 1,000 hours of training."
"We have a 98 percent placement rate of our students," Vizard said, "because the massage community knows the quality of this program and also because we have a strong internship program, with some students being hired through their internships after being licensed."
Melissa Rich, owner-operator of A Rich Experience Massage & Wellness Spa, provides internship opportunities to Pima students and hires about one Pima graduate a year.
"I've been really impressed with how professional and skilled they are right away when they come into the spa," she said.
Pima's focus on the anatomical sciences prepares graduates for a broad scope of clients, from athletes to senior citizens, Rich added.
"That's one thing that's really important to me as a manager, that they can do everything that I would require of a new hire with minimal training," she said.
John Sweeney, a recent Pima graduate who is building his own massage practice, Agave Rose Wellness, said the program's strongest point is its "high standards of excellence."
"I felt very prepared. No matter where I was going to end up working, I knew I would be comfortable working under the most exacting standards," he said.
Sweeney, Garcia and Campuzano all earned both the Therapeutic Massage certificate and associate degree.
Pima's program is approved by the Arizona State Board of Massage Therapy and the National Certification Board for Therapeutic Massage and Bodywork (NCBTMB). Students who complete the program qualify to apply for the Arizona Massage Therapy License, required to practice in Arizona. They also become eligible to take the National Certification Examination leading to National Certification in Therapeutic Massage and Bodywork, the highest national standard in the massage field.
Arizona residents pay PCC's in-state tuition, making this program one of the most affordable available. CF
Photo: Janet Vizard (center) with Pima graduates Michelle Campuzano and John Sweeney.