Christine Bradley: Launching a Career in Science: Pima's STEM programs offer small class sizes, top-notch instructors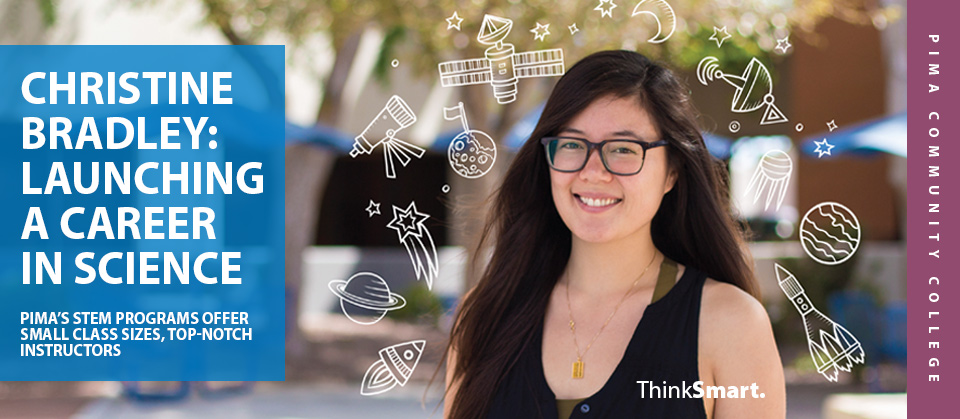 By Anne T. Denogean
By any standard, Christine Bradley is on her way to an impressive career in the sciences.
The one-time Pima Community College student accepted a position as an optical engineer with NASA's Jet Propulsion Laboratory in Pasadena, Calif., this past spring as she completed her doctorate in Optical Sciences and Engineering from The University of Arizona. Sitting in the audience in May, as she defended her doctoral dissertation, was a mentor, retired Pima Physics faculty member Anthony Pitucco, Ph.D.
"I was very fortunate to find Tony. He legitimately cares about you and your successes," Bradley said.
Bradley's love for science dates back to her childhood and a family in which she and her brothers were equally encouraged to excel in math and science.
"In high school, I started a robotics club," she said. "Instead of going to senior prom, I went to nationals for robotics."
In 2006, as Bradley began her studies at UA, she quickly realized that lecture halls filled with hundreds of students in beginning physics courses were not an optimal learning environment – "they were huge, impersonal." So, she turned to Pima, Bradley said, where the science classes were a fraction of the size, with plenty of opportunity for questions and one-on-one attention from the instructor.
"I took a class with Tony, and I was sold. I took as many physics classes as I could at Pima," she said. "The instructor could actually engage the class, rather than just lecture to 400 students."
Pitucco arranged for Bradley to conduct undergraduate research in a UA lab under a National Science Foundation grant, and, although Pitucco retired in 2013 after nearly 41 years with Pima, the two kept in touch. Most recently, Bradley discussed her two post-degree job offers with him – at JPL, she will be part of a team building hyperspectral instrumentation that will be used on a mission to study Europa, one of Jupiter's four largest moons. The position she turned down was as an optical engineer at the Massachusetts Institute of Technology (MIT) Lincoln Laboratory.
In pursuing her degrees, Bradley also took many of her general education courses online at Pima – anthropology, geology, music appreciation. Pima offers about 500 online courses.
"They were really all wonderful. I could do them at home and after work. I liked that they were online and enjoyed the online discussions," she said.
While Bradley has high praise for UA, where she earned her bachelor's in Optical Sciences and Engineering in 2011, she credited Pima with getting her off to a great start in her educational journey.
"It was a great place for me to build a foundation of the basics," she said.