Ethnic, Gender and Transborder Studies: Pima aims to establish an EGTS Center of Excellence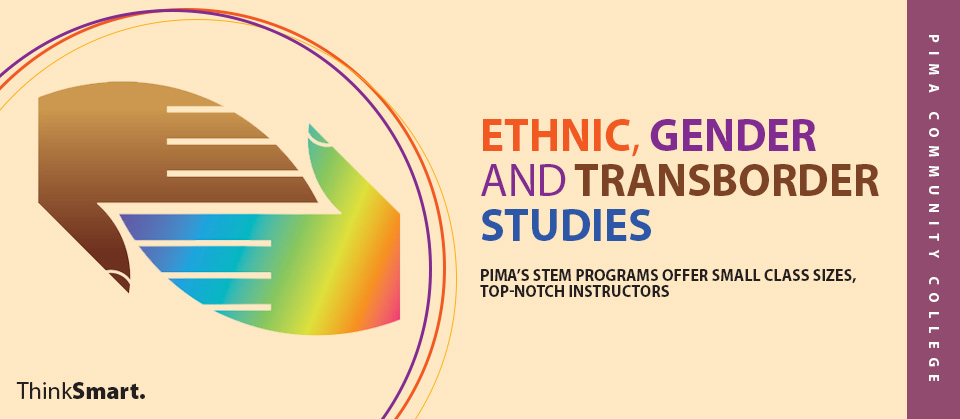 By Anne T. Denogean
Just over a year ago, Pima Community College set out to establish itself as a leader in the fields of Ethnic Studies, Gender and Women's Studies, and Transborder/Global Studies (EGTS). This fall, Pima is well on its way, offering more than a dozen EGTS courses and five curriculum pathways in related disciplines to The University of Arizona.
It also will have a new concentration in EGTS as part of a Liberal Arts degree and a new EGTS academic department to coordinate students' learning.
"I don't know that there's any community college out there really doing what we're doing," Chancellor Lee Lambert said earlier this year at an EGTS Summit at Pima.
Noting the importance of immigrants and people of color in the building of the United States, along with the injustices and abuses suffered by so many of them, Lambert said, "We need a Center of Excellence to make sure that we don't repeat history, and also for marginalized populations to know that their identity is valued and that it has a place, it has meaning and they have made contributions to the country that we all have an allegiance to. That's why it's important to me."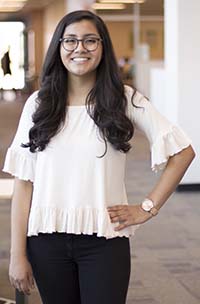 Uneek Armenta, a Pima freshman, enrolled in paired classes covering Writing 101 and Border Culture (MAS 127) last year. She said the classes helped her to understand and be proud of her roots. She learned unpleasant details about American history, about the treatment of Latinas/os and Native Americans. She felt gratitude for the sacrifices made by her ancestors.
"In class, we wrote a paper about our cultural identity … I had no idea where to start," Armenta said. "But that paper helped me dig into my family and our past and learn things about my culture."
Judeeth Squeer, also a Pima freshman, enrolled in Sexuality, Gender and Culture (GWS 202).
She said, "EGTS are important because they expose systemic oppression."
EGTS Department Head Francisca James Hernández, Ph.D., said the field of study "nurtures students' understanding and appreciation of themselves and of people different from themselves."
It also provides a foundation for "challenging racism, sexism, classism, homophobia and xenophobia, and their resurgence in U.S. society," she said.
The College is working toward establishing an EGTS Center of Excellence by 2019.
The program has added two full-time faculty positions for fall 2017. Relevant courses have been cross-listed between EGT and other disciplines. EGTS at Pima includes course offerings in Mexican American Studies, American Indian Studies, Gender and Women's /LGBTQ  Studies,  Global /Transborder Studies,  with plans to add African American Studies and Asian American/Pacific Islander Studies in the future.
What Pima is building is historically significant, said EGTS faculty member, Rosalía Solórzano.
"EGTS contribute to a robust academic curriculum, intellectual environment and community empowerment," she said.