Explore Pima's Unique Learning Opportunities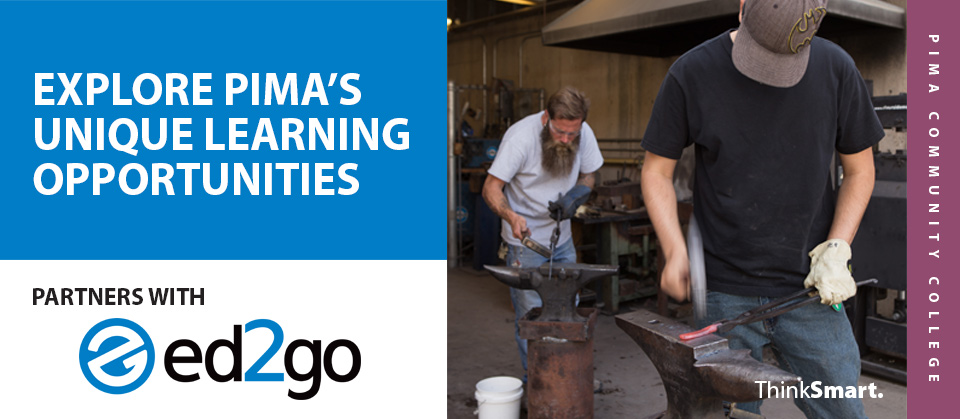 Learn Bladesmithing from One of the Best

A Pima Community College adjunct instructor who competed on History's "Forged in Fire" teaches bladesmithing at West Campus.
Richard Greenwood was runner-up on the series' 2015 premiere and in Season 3's "fan favorites" episode (2016). This fall, he instructs two sections of the three-credit ART175 Ferrous Metalwork: Blacksmithing/Tool Making/Knife Making course in L130, the PCC Sculpture Studio at West Campus: CRN 12563 is 3:40-5:55 p.m.; CRN 10996 is 6:10-8:40 p.m.
ART 175 is open to novices and veteran bladesmithers, alike, and each class is limited to 16 students. Pima provides all equipment, though students are encouraged to bring their own welding apron and gloves, as well as safety glasses.
"It's a good way to let off a little steam and at the same time have artistic freedom," Greenwood said.
Conduct Research Under a NASA-Funded Grant
For nearly a decade, Pima has participated in the NASA-funded ASCEND!, a program that provides students with the opportunity to participate in all phases of a near-space balloon mission. Students build payloads that are attached to a high-altitude balloon to explore the Earth's atmosphere as the balloon rises to up to 100,000 feet, then falls back to earth.
"This program exposes the students to teamwork, basic science research, and the value of scientific collaboration," PCC Physics faculty member Mike Sampogna said. "It's exciting and very rewarding, especially when they view their videos of the Earth at 100,000 feet."
Students participate in the ASCEND! through independent study classes at Pima, specifically Physics 295LB taught by Sampogna at Northwest Campus and Chemistry 295LB taught by Chemistry faculty member Silvia Kolchens at West Campus.
Sampogna said students with ideas for other scientific research projects also can receive one-on-one attention by signing up for the independent study courses. Contact Sampogna ([email protected], 520-206-2157) or Kolchens ([email protected], 520-206-6660) prior to enrolling.
PCC Partners with ed2go 
Pima combines forces with the ed2go online learning network to offer a variety of noncredit courses geared to helping people advance in their careers. Our ed2go noncredit courses start monthly.
To learn more about our ed2go noncredit online courses and career training programs, contact 520-206-3938 or [email protected]
ed2go: Instructor-facilitated Online Training Courses (6-weeks)
Accounting and Finance
Business
College Readiness
Healthcare and Medical
Personal Development
Teacher Professional Development
Test Preparation (including GED®, SAT/ACT®, GMAT®, GRE®, LSAT®)
See more online courses, covering a variety of topics at ed2go.com/pima.
ed2go: Online Career Development Programs (6- to 12-months)
Business and Professional
Hospitality and Service Industry
IT and Software Development
Management and Corporate
Media and Design
Skilled Trades and Industrial
Sustainable Energy and Going Green
See more online programs, covering a variety of topics at careertraining.ed2go.com/pima.
Pima Community College partners with ed2go to offer a variety of noncredit online courses.
These courses do not transfer as credit for PCC degrees.