New Career in About a Year!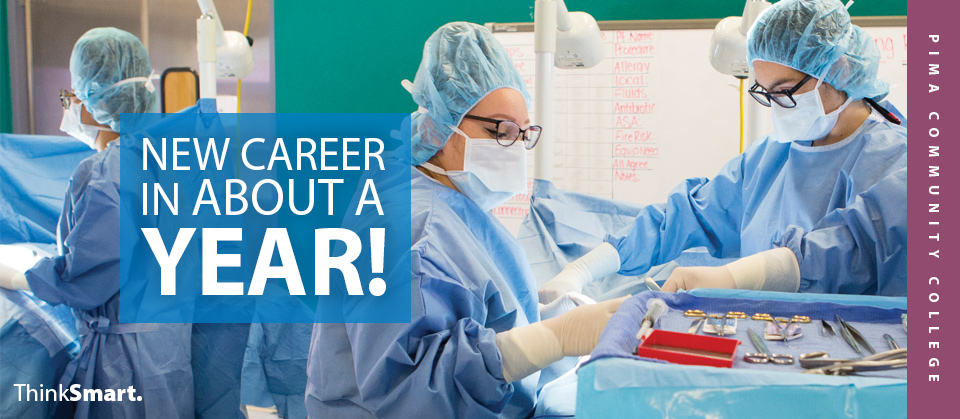 By PCC Staff
PCC Has Many Options to Get You in the Job Market Fast
Pima Community College knows you don't have time and money to burn. That's why many of our programs are designed to take you from training to a well-paying career in about a year. Just a few are included on these pages. Explore pima.edu to find many more.
PCC Expands Surgical Technologist Training to Meet Demand
Pima's Center for Training and Development (CTD) Surgical Technologist program takes exactly one year to complete, and, in 2016, had a perfect placement rate.
"In our last cohort, 100 percent were hired within 90 days of graduating," said Leann Williams, instructor and program head. "Sometimes, students get job offers before they graduate."
Williams, a 25-year veteran surg tech, says grads average $20 an hour and most get hired by their clinical facility.
CTD recently expanded its nationally accredited Surg Tech program, the only one of its kind in southern Arizona, to meet job demand in the region. Trainings start in January and May.
"The program is very intense, but it is one year of training for a long career," said student Daniella Reyes, who graduates in December.
Most surgical technologists work regular schedules, full time in hospitals, surgery centers or for a specific physician or surgeon. Williams said schedules can vary from three 12-hour days to five eight-hour days.
Students go through a rigorous process to get into the program. Classes run 8 a.m. to 3 p.m., Monday through Thursday, at PCC Desert Vista Campus. After eight months, students start clinical assignments and must take part in at least 125 surgeries. PCC has clinical partnerships with nearly all the metro Tucson surgery facilities, as well as Bisbee, Payson and Safford facilities.
Therapeutic Massage Offers a Variety of Career Alternatives
Pima's Therapeutic Massage (TMA) program has been shortened to get students through the program in about 11 months, while providing 750 training hours, hands-on experience and a solid foundation in anatomy, physiology and kinesiology.
"The major idea is to get you employed sooner," said John Sweeney, TMA lead faculty. "Students have asked, 'can we do this faster?'"
TMA student Tia Burdex added, "The faster you can start working, the faster you can meet other goals."
In Pima's nationally accredited program, students are trained in Swedish massage, sports massage, orthopedic massage, deep tissue techniques, and trigger point therapy.
Pima graduates may go in to business for themselves or find employment in spas, wellness centers, massage clinics, high-end resorts and cruise ships, and chiropractor and sports medicine clinics. The median annual salary, according to the U.S. Department of Labor Bureau of Labor Statistics (BLS), is $37,180.
Some students, including Burdex, see TMA as a starting point for other health-related careers.
"I'm going to use this to support myself as I study to become a physical therapist," Burdex said, noting, "I'm not the type of person to sit behind a computer. I like the idea of helping people with stress and pain management."
For more information about Therapeutic Massage: pima.edu/program/therapeutic-massage
Healthy Careers in Nursing Start at Pima
CTD offers a Practical Nursing Certificate that prepares students to become an important part of the healthcare team in just 13 months.
The demand for licensed practical nurses (LPNs) is great. As the baby-boom population ages, the overall need for LPNs to care for older patients in residential care facilities and home health environments is expected to increase, with the BLS predicting 16 percent job growth through 2024. The median salary for an LPN in Arizona is $51,100.
LPN graduate Amy Birgy is looking forward to a career with job stability and opportunity.
"I have so many options," she said. "I have a passion for public health and patient education and would love the opportunity to teach school-aged children about diet and exercise."
Birgy, who graduated in May, plans to pursue her Bachelor of Science Degree in Nursing (BSN).
Pima offers several pathways for nursing education and is collaborating with other educational partners to develop more.
"Multiple opportunities for earning advanced degrees in nursing are great for our community," said Rochelle Byrne, acting advanced program coordinator of CTD's Practical Nursing program. "Pima is doing all the right things to support the emerging workforce."
PN student Sarah Mitchell enrolled in Pima's program after immigrating to the U.S. from England.
"The nursing instructors were all supportive and encouraging," she said. "The low student-to-instructor ratio helped me adapt to the U.S. school system."
Mitchell, who earned her certificate in 2015, said she takes pride in bringing patients back to health. She is employed at a long-term acute care hospital and is working her way through PCC's RN Bridge Program. She will earn her BSN in 2018.
"I'm glad I earned my LPN first," she said. "It gave me the hands-on experience and confidence to enter the Bridge Program."
"The high quality of PCC's program is reflected in its strong history of producing exemplary LPNs," Byrne said. "For several years, we've been well above the Arizona State Board of Nursing's minimum standards with 100 percent pass rate on the licensure examination (NCLEX-PN) on the first try."
Pima Helping to Fill a Growing Demand for Medical Assistants
CTD's Medical Assistant Certificate can prepare you in 13 months for a job as a medical assistant, a profession with a median hourly wage in Arizona of $15.17.
"It's a really great, comprehensive program," said Joy Habegger, a recent graduate who landed her dream job working as a pediatric medical assistant where she did her externship. "The hands-on learning and real-world education gave me confidence on the job."
Medical assisting is one of the nation's fastest growing careers. According to the BLS, job growth in medical assisting is projected to increase 23 percent by 2024.
Recent graduate Pedro Muniz was inspired to become a medical assistant after going through physical therapy to repair his anterior cruciate ligament (ACL).
"The medical assistant always answered my questions and made sure I understood what the doctor was telling me," he said. "I thought someday I'd like to be in that position, helping someone in my position."
Muniz ultimately wants to work in a sports medicine clinic and eventually to specialize in orthopedics, podiatry or X-ray radiography.
"Medical assistants have enormous career potential," said Trish Krebs, clinical coordinator for CTD's Medical Assisting program. "Those who choose to spread their wings and move in to other areas of the medical field can do so with medical assisting as a firm foundation."
Graduates of the nationally accredited program are eligible to take the American Association of Medical Assistants (AAMA) Certification Exam.
"Employers prefer to hire certified assistants, Krebs said. "An AAMA certification tells employers that you're receiving the high-quality education you need to prepare for your healthcare career."
For more information about CTD programs: pima.edu/ctd or 520-206-5100