Train To Become a Pharmacy Technician: PCC's program meets nationally recognized standards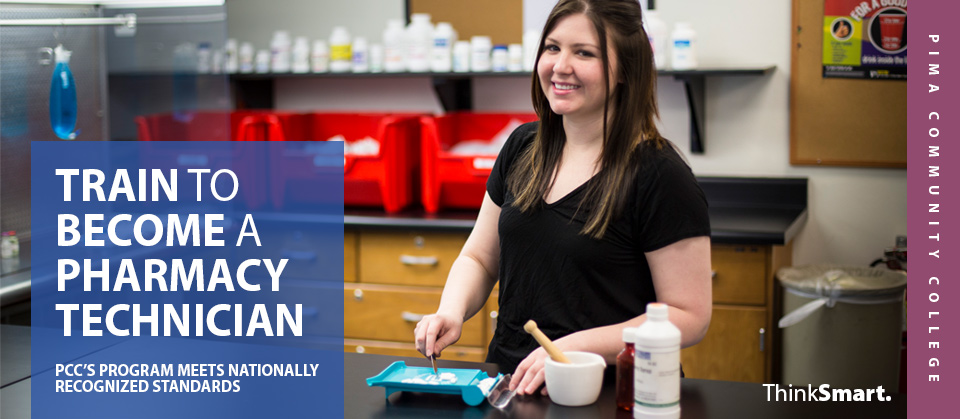 By Jamila Caamaño
Pima Community College's Pharmacy Technology program — accredited by the American Society of Health System-Pharmacists (ASHP) — is the only nationally accredited training program in southern Arizona.
For anyone who wants to work in the high-demand field, that accreditation is key to their future employment.
Aaron Holley, program assistant for Pima's Pharmacy Tech program, said the future requirements of pharmacy technician training are expected to change. Within the next few years, the Pharmacy Technician Certification Board (PTCB) will require new pharmacy technicians to complete an accredited pharmacy technician education and training program. In some states, but not Arizona for now, it's already a requirement.
Student Susanette Plizga, who lives in Goodyear, said finding an accredited program was extremely important to her. Once a week, she travels to PCC's East Campus to get hands-on learning in the laboratory and enjoys the convenience of taking most of her other classes online. She will receive her Pharmacy Technology Associate of Applied Science degree this fall.
"Pima's program is very comprehensive," she said. "The hands-on training and coursework gave me the confidence to work in a real pharmacy."
Pharmacy technicians are in high demand around the country. The American population is aging, driving up the need to dispense more medications. According to the U.S. Bureau of Labor and Statistics, more than 34,700 jobs are expected to be added by 2024.
It's more important than ever that people contemplating a pharmacy technician career make certain the program they choose is accredited by a reputable agency. Accreditation ensures that the program meets national standards and demonstrates to employers that its graduates have the training and education to be successful. Attending an unaccredited program can mean, among other things, that  a graduate won't be able to obtain appropriate professional licensure.
Student Sabrina Moreno-Granado, who works full time as a certified nursing assistant, said she did significant research to find an accredited program that fit her busy schedule.
"I did not want to end up with a degree or certificate employers do not respect," she said.
This fall, she will receive her AAS degree. She plans to pursue her studies in pharmacology at The University of Arizona College of Medicine.
"I wouldn't trade my experience at PCC for anything. It's an affordable and accredited program that can't be beat," she said. "The instructors are committed to helping you achieve your goals, find an internship, prepare for certification and find a job."
PCC's state-of-the-art program prepares students for a career assisting pharmacists in retail pharmacies, hospital and nursing facilities and other areas, such as mail-order and compounding pharmacies.
"It's a very rewarding career," said Pharmacy Tech graduate Jonathan Isgar, who has worked in the inpatient pharmacy at the Southern Arizona VA Health Care System for the past three years. "I really get a sense that I'm making a difference."
Certification
Pima graduates are eligible to take the Pharmacy Technician Certification Exam (PTCE). The PTCE is designed to determine whether individuals have mastered the knowledge necessary to practice as pharmacy technicians. The PTCE is recognized in all 50 states.
‣ Learn more about Pima's Pharmacy Technology program at pima.edu/program/pharmacytech