Pima - Your First Choice for Academics and Athletics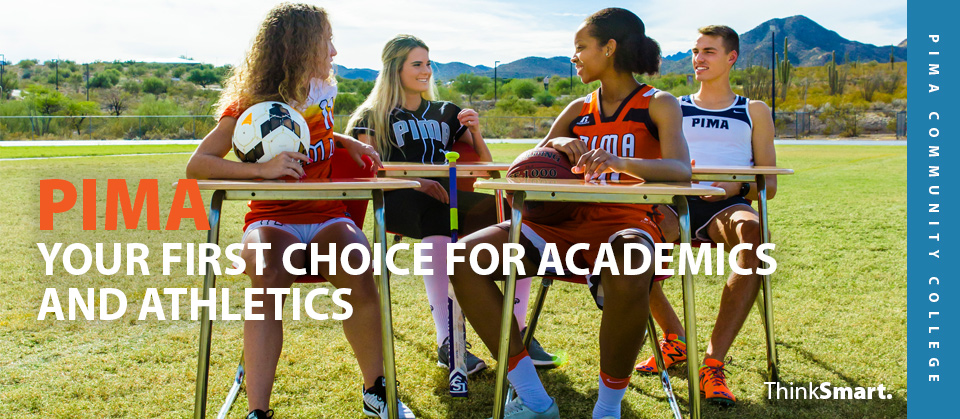 By PCC Staff
Pima Community College student-athletes know that the two-year school is the smart choice for them to achieve in the classroom and in intercollegiate athletics.
Pima Athletics as a whole, markedly so in recent years, has had more teams go farther into post-season than most other community colleges in the country.
In addition, every year individual Aztecs earn all-American honors for their athletic or academic achievements. In 2016-17, they outdid themselves. Pima had 30 NJCAA All-Academic honorees, the most ever for the College. Honorees must have a minimum 3.6 grade point average. Four of the Pima athletes were First Team/Pinnacle Award recipients, with 4.00 GPAs.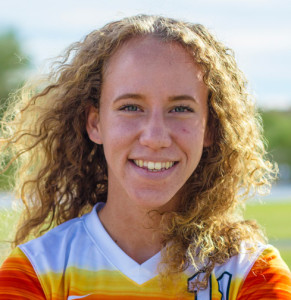 One of those was women's soccer defender Emily Bliven, a graduate of Sahuarita High School. She signed to run track at St. Cloud State in Minnesota, but returned to Arizona and found her home on the soccer field.
"For me, Pima has been the biggest blessing," said Bliven, a sophomore who plans to pursue a bachelor's degree and become a physical therapist. "When I came to Pima, the counselors helped me with my classes. The small class sizes were amazing for me. And Pima has some of the best science teachers, who've helped me with really tough material."
Like other Pima student-athlete standouts, Bliven uses travel time to games on the team bus to study. Most Aztecs coaches offer or even require regular team study times, too. Plus, coaches regularly check student-athletes' grades throughout each semester.
"You can be a student without being a college athlete, but you can't be a college athlete without being a student," said Aztecs Women's Soccer Coach Kendra Veliz, a Tucson native and Boston College graduate (math major, education minor) and Pima coach since 2001.
Veliz says she encourages players to use Pima's campus learning centers, as well as attend free workshops and tutoring.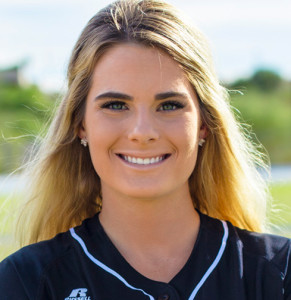 "I would seriously be in so much trouble if it weren't for the tutors!" said softball outfielder MaryAlys Julian of Yuma, a 2016-17 second team all-academic honoree who is studying business economics.
The sophomore praised her PCC instructors, noting that many offer extra credit to students who use tutors.
"Using tutors for extra credit made me want to go to them even if it wasn't extra credit," she said.
Cross Country and Indoor and Outdoor Track runner Gabe Atchley, another second team all-academic honoree, praised Pima instructors for their quality and helpfulness. The Oklahoma native said homework is his biggest challenge, but draws from his experience in athletics.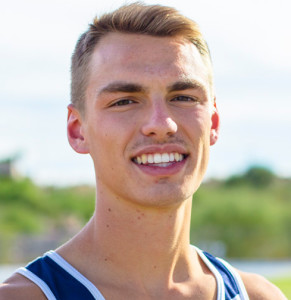 "Being a good runner isn't something that happens," said Atchley, who also works 15 to 20 hours a week and is in PCC's Air Force Reserve Officers Training Corps. "It takes constant hard work and practice … I'd like to think that working so hard in training makes working for good grades seem easier."
Women's basketball guard Reazsha Benjamin, another second team all-academic honoree, also has a part-time job. The Sahuaro High School graduate is pursuing a degree to become a general contractor. She did not intend to play basketball in college.
"Coach Todd Holthaus approached me after a game and said he wanted me to come play for him at Pima," said Benjamin, who credits intercollegiate athletics with giving her more resources. "After a lot of thinking, I decided I didn't want to give up my biggest passion."
Basketball also was Ben "Murphy" Gershman's passion. He worked as a handyman for a few years after graduating from Tucson High Magnet School, even taking classes at Pima before dropping out. Then Pima coach Brian Peabody offered him a scholarship. Gershman became a top Aztecs player from 2013 to 2015.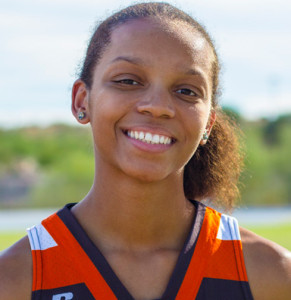 In May, he will graduate with an engineering degree from the Colorado School of Mines, where he completed his college athletics eligibility last spring.
He said Peabody required team study hall each day before practice. Inspired by that and tutoring help he received, Gershman and PCC academic program advisor Kai Linstedt are working out the final details to establish the Aztec STEM Scholarship program.
"Kai was mostly a math tutor when I was at Pima and he was a huge help to me," Gershman said. "I took four or five years off and going back, I knew I wanted to be in engineering, but I had to start all over, especially with math. I don't know if any university would have let me in at that point."
Aztec STEM is to be more than just a scholarship, he said.
"The idea is to set them up with a mentor – sort of what Kai was to me while I was there," and help them transfer to a college or university, he said.
Long-time cross country and track coach Greg Wenneborg said he emphasizes to his men and women athletes that education is their priority at Pima.
"If a student-athlete becomes NCAA recruitable, their success in the classroom is vital in order for them to transfer to a university," Wenneborg said.
LEARN MORE:
pimaaztecs.com/general/2016-17/releases/20170608rgulki