Chancellor's Letter To The Community

New Career Pathways, New Ways to Learn
In uncertain times, community can count on Pima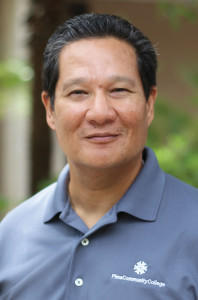 The COVID-19 pandemic has shaken education around the world. It has challenged Pima Community College in myriad ways. But it has not deterred us from fulfilling our mission to enhance the economic vitality of our community through learning.
Beginning in March, Pima responded deliberately and decisively to the pandemic's rise. We retooled
courses to deliver the best possible education to our students even though our campuses were closed. Within two weeks, faculty and staff transformed nearly 2,000 formerly face-to-face classes into new innovative virtual formats.
Some 30% of our classes already are taught online and did not require major changes. Programs not lending themselves to virtual instruction, such as our top-tier Health Professions and Aviation Technology offerings, were taught in person over the summer, under stringent social distancing guidelines.
Perhaps most importantly, we helped students who needed fiscal support. Our Governing Board directed disbursement of the $9.9 million Pima received through the federal CARES Act to help students with pressing financial needs.
So much for the myth that higher education cannot react to rapid change. Like thousands of colleges and universities, Pima turned on a dime.
The lessons we learned this spring will help us improve education when fall classes start Aug. 19, so our students can embark on well-paying careers, despite an uncertain economic climate.
This fall we are offering more courses that require only eight weeks to complete. In response to
student expectations, we are offering courses that combine Web-based and in-person instruction.
This is in addition to a growing list of totally online degrees and certificates.
Completion of our Center of Excellence in Applied Technology at Downtown Campus is expected in early 2021. We will expand state-of-the-art training in Automotive Technology so graduates can successfully transition into the jobs of the present (think diesel and electric) and the future (think autonomous).
Other Centers of Excellence, in Information Technology/Cybersecurity and Health, are on schedule.
We are engaging with Google, Apple and other major technology companies to create short, straight-line pathways to 21st-century careers.
During the Great Depression, in 1933, President Franklin D. Roosevelt told the nation that "Our greatest primary task is to put people to work. This is no unsolvable problem if we face it wisely and courageously." Pima Community College is taking these words to heart, and I look forward to sharing innovations in work and learning that enhance prosperity for our students and community.

Lee D. Lambert, J.D., Chancellor