Pima through COVID-19 Resources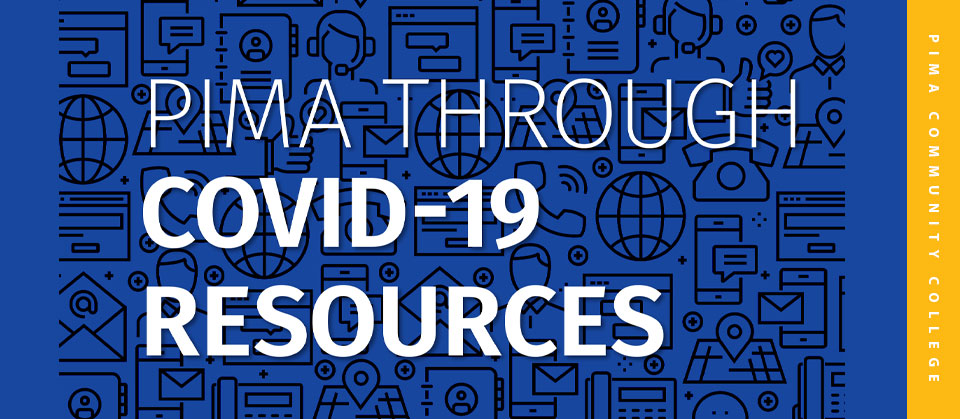 Pima recognizes that the COVID-19 crisis drastically has affected its students. While on-campus services currently are not available, the College is adapting its services and instruction based on the best interests of the students and community.

Online, Virtual and Hybrid classes
Similar to Pima classes offered in Fall 2020, Spring 2021 classes are a blend of online – through Pima's dedicated PimaOnline platforms, virtual – offering a variety of teaching techniques using the Internet and other tools, and hybrid – combining in-person and online instruction. Hybrid courses usually require a lab or other hands-on component.
Enroll and register online
Students should register for classes through MyPima. Whether you are a new or returning student, registering for classes at Pima is quick and easy. All you need to begin is access to the Internet and your MyPima account.
If you don't have a MyPima account set up, please contact us, [email protected] If you haven't yet enrolled at Pima, you can apply online today at pima.edu/apply.
Wifi access, technical resources and D2L help
Although Pima has restricted access to campus buildings, Wifi access is available outside.
WiFi access: Pima students can access WiFi in the parking lots of the Desert Vista, Downtown, East, Northwest and West campuses from 8 a.m. to 5 p.m., Monday through Friday. Students also can access Sunnyside Unified School District "hot spot" locations. Bring your Pima student ID to all locations or have your student ID number handy.
Check out Pima laptops, tablets and WiFi hotspots: If you want to borrow a Pima laptop, tablet or hotspot for the semester to assist you in your courses, please follow the curbside pick-up instructions on the Library's COVID-19 Info and Updates page pima.edu/covid19, scroll down to Technical Resources and D2L Help for the link.
D2L – Computing Resources – Online Learning: Student Resource Guide for Transition to Online Learning (D2L): Basic getting started information for classes transitioning to D2L at pima.edu/covid19 >Student resources>link is under D2L-Computing Resources-Online Learning
Free and Discounted Software for Students:
pima.edu/student-resources/support-services/computing-resources/software-purchase.html
QLESS Advisor Call Back
If you need to talk to an advisor, the quickest way to reach one is through the QLESS online sign-in system. All you have to do is:
Sign in here: https://kiosk.na1.qless.com/kiosk/app/home/100100000137
Enter your name and cell phone number in the boxes provided.
If you know your student ID number and program of study, enter each of them.
Pick the area and service that best fits your needs or select "Other."
Once in line you will receive text messages to the cell phone number you provided, with an estimated time for the call back. Once you have reached the front of the line, an Advisor will call you on the phone number provided. You can call from a landline phone too, but you will not receive the text messages.
Call back hours are:
Monday through Thursday, 9 a.m. – 5 p.m.
Friday, 10 a.m. – 5 p.m.
Saturday, 9 a.m. – 11 a.m.
24×7 Student Services
The 24×7 virtual student services phone number/email provides general information, registration and other support. It is available 24 hours a day, seven days a week.
Call 1.844.502.9912 (toll-free) or email [email protected] to get in touch with us.
Pima bookstores online ordering only
Due to Pima's campus closures, its bookstores are open for online ordering only, bkstr.com/pimaccstore.
Information also is available at pima.edu/student-resources/support-services/bookstores-cafes.