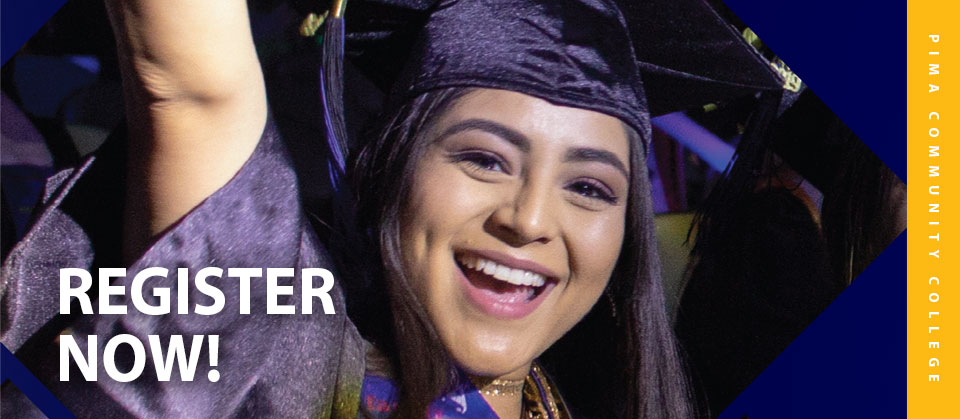 Your community colleges provide nearly 75% of the education and training  in Arizona after high school, serving students who will typically stay in Arizona.
Many Arizonans choose community colleges as the starting place for a better life with broader choices:
For students who transfer to universities
For adults who need more training to get new jobs or keep their current ones
For high school students who want to get an early start on college through dual enrollment courses
For adults who decide later in life that they want the benefits of an education and a better life for themselves and their families
Pima Community College serves approximately 42,000 students each year, and is among the largest multi-campus community colleges in the nation. The College is committed to providing convenient, affordable and accessible high-quality education with the power to transform the lives of our students and improve our community.
Spring Classes Start Thursday, Jan. 14, 2021
Registration Deadline: Students can register until the day before the first meeting of a course for any section.
Registration Options:
Continuing Students:
Go to pima.edu and log in to MyPima.
New Students:
The College is restricting access to campus and facilities to help prevent the spread of COVID-19. Please refer to pima.edu for up-to-date information and to apply for admission and register for classes. Assistance with applying, registering,
and general questions is available virtually:
Questions:
[email protected]
Student Services Hours:
pima.edu/student-resources/advising/student-service-center-hours.html
COVID-19 Information:
pima.edu/covid19
The most current schedule is online at pima.edu, and you can pick up a Student Success & Registration Guide in the free publications distribution area at the following locations:
Pima campuses and centers
Archer Center
Bear Canyon Library
Bookman's Entertainment Exchange
Catalina Library
Cherry Recreation Center
Columbus Library
Donna R. Liggins Recreation Center
El Pueblo Activity Center
El Pueblo Library
Flowing Wells Library
George Miller Library
Green Valley Library
Himmel Park Library
Martha Cooper Library
Mission Library
Nanini Library
Oro Valley Library
Pascua Neighborhood Center
Platinum Fitness
Quincie Douglas Center
Rancho Sahuarita Library
Randolph Community Center
River Library
Roy Laos Transit Center
Sam Lena Library
Santa Rosa Center
Southwest Library
Tucson Main Library
Udall Park Recreation Center
Valencia Library
Wheeler Taft Abbett Sr. Library
William Clements Center
Wilmot Library
Woods Library
YMCA LOHSE
YMCA Northwest