Energetic Pima Respiratory Care Graduate On Front Lines of COVID-19 Crisis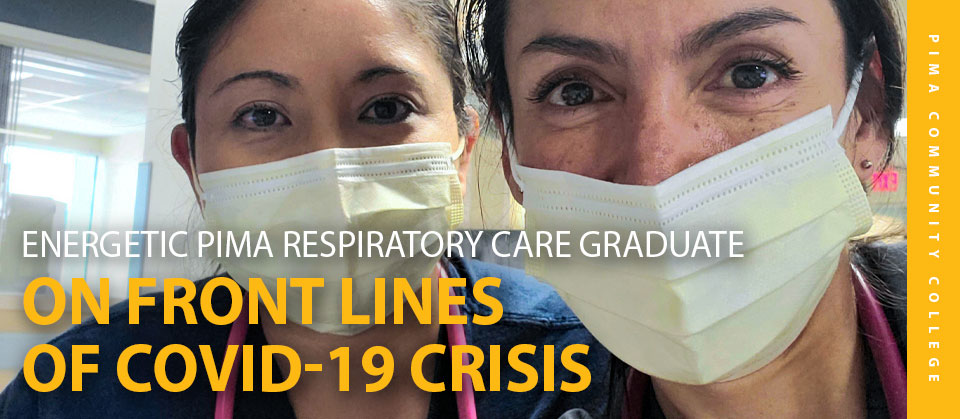 By Pima Staff
2:40 A.M.
Respiratory Therapist (RT) Katalina Zimdars, Pima Community College Class of 2020, begins her day with a strenuous weightlifting and running workout.
"My daily workout sets the mood and energy for the rest of the day and it also calms me and makes me happy," said Zimdars, who also is a licensed personal trainer and portrait painter and has been a professional tattoo artist for 10 years. "It's a gift to be healthy, alive and I take advantage of it!"
4:30 A.M.
Time to get ready for work at Cornerstone Specialty Hospitals Tucson.
5:50 A.M.
Zimdars arrives at Cornerstone and by 6 a.m. starts reviewing her patients' reports.
9 A.M.
Zimdars goes on rounds with a doctor, setting goals and plans for each of her patients. Throughout the day, she cares for her patients, including some with COVID-19. That likely includes checking those on ventilators, removing tracheostomy tubes from patients who no longer need them and responding to crisis calls.
"It's very busy,  the life at the hospital," she said. "It's exciting and filled with satisfaction."
6 P.M.
After Zimdars passes along patient reports to the next shift's respiratory therapist, she heads home to spend quality time with her family and their dogs.
On the COVID front lines
This was a typical day for Zimdars in fall 2020, following her graduation in May with an Associate of Applied Science – Respiratory Care from Pima's Respiratory Care Program. Typical that is, in the new normal created by the COVID-19 crisis. Respiratory therapists are on the front lines of the response, caring for and reassuring patients whose loved ones cannot visit them due to COVID-19 safety protocols.
"It's tough to see our patients with COVID-19 and it's tough to see them lonely and scared and away from their families," Zimdars said. "I speak to all my patients and let them know that they aren't alone, that we all are there for them and that together we will see this through."
The experience has given the proactive Zimdars even more motivation. She now is pursuing her Adult Critical Care credential from the National Board for Respiratory Care.
"Our role as respiratory therapists during these times has become extremely important," Zimdars said. "We can provide expertise when looking for strategies during diseases' processes and also through recovery."
A 16-year journey
Zimdars was drawn to Pima 16 years ago, when she left her home country of Colombia for the U.S. Settling with her family in Tucson, she took English classes through Pima's Adult Basic Education for College and Career.
She started her Respiratory Care program prerequisites in 2016, then began the program in 2018. Her final semester was spring 2020, when COVID-19 hit.
"We couldn't finish our last rotations of clinicals," she recalled. "However, our instructors quickly adapted our program to online. Our instructors were also available continuously for anything we needed at any time."
Pima's Respiratory Care Director Russell Schmidt, BS, RRT, RPFT, RRT-ACCS, said that because the program already was using simulations as part of its training, instructors were able to rely more on scenario training to meet course outcomes.
Cornerstone, where Zimdars works, is where she did part of her clinical training, supervised by RT Zoila Alvarez, also a Pima graduate. Zimdars said her boss, RT Orace Jordan, offered her a job at the end of her training.
90% success rate
Pima's Respiratory Care program has nearly 60 students total in two cohorts at any given time, and graduates 26 to 29 students each spring. The program is accredited by the Commission on Accreditation for Respiratory Care (CoARC). In July, Pima received the Distinguished Registered Respiratory Therapist Credentialing Success award from CoARC for, among other things, having 90% or more of its graduates successfully become licensed respiratory therapists.
Schmidt said respiratory therapy is a profession with a variety of career paths and specialties.
"Respiratory therapists are an integral part of the healthcare team," Schmidt said. "They are the experts in cardiopulmonary therapy and diagnostics. Anything to do with the human lungs and heart is our business."
Zimdars said her advisor and instructors were kind, and that smaller class sizes enabled instructors to work one-on-one with students.
"Pima gave me the opportunity that I never had in my country," Zimdars said. "After finishing high school at the age of 16, my mom found herself taking care of the family. During those times, life in Colombia was difficult and, like many families, we were obligated to leave our home and city.
"The opportunities to get into college were limited. I finally earned my degree and Pima made that possible."
Respiratory Therapist career potential
25% projected job growth through 2026; $49,525 annual median wage
Center of Excellence in Health Professions preparing students for jobs of today and tomorrow
Pima's Respiratory Care Program is part of the Center of Excellence in Health Professions, based at West Campus. The Center provides state-of-the-art training in healthcare fields, including Nursing, Surgical Technology, Medical Laboratory Technology, Dental Studies and more. By clustering these integrative programs into a single unit, Pima streamlines access to multiple career pathways. Ultimately, the College will develop a high-tech space that mimics a hospital environment. Already students benefit from technology, including iPads that expand learning and understanding through augmented reality and enhanced video. Simulation mannequins allow students to learn and hone skills in a safe and supportive environment before moving into clinical care for actual patients. Learn more at pima.edu/centersofexcellence