Pima Hosts TSRA Annual Car Show; TSRA Supports Pima's Programs

TSRA Rodders Days Car Show set for April 24
For one glorious Saturday each April, the west parking lot at Pima Community College's Downtown Campus is home to the state's oldest street rod and custom car show.
On April 24, the Tucson Street Rod Association (TSRA) will hold its annual Rodders Days Car Show at the campus, marking an innovative four-year partnership between Pima and TSRA. There will be hand-built street rods, custom and classic cars, some worth up to $100,000, antique engines and mining equipment, vintage campers, food vendors and more. This is the 46th year of the car show, which was held at various locations around Tucson before settling at Pima.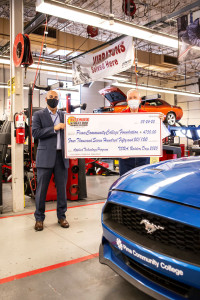 "The Tucson Street Rod Association and its sponsors are strong supporters of Pima, our Applied Technology programs and our students," said Greg Wilson, Pima's dean of Applied Technology. "We have a lot of fun hosting the Rodders Days Car Show each year because it is a great community event. Visitors not only get to see fantastic cars but they get to tour our facilities and become more familiar with Pima's programs."
TSRA held the first car show nearly five decades ago at Reid Park, then for many years on Fourth Avenue, and for a couple of years each at Casino Del Sol and the University of Arizona. In 2017, TSRA was looking to relocate the show for 2018 and wanted to choose "a meaningful location." Since  many of TSRA's sponsors and members are in the automotive industry, the group approached Pima with a proposal to raise funds and promote the College's hands-on Applied Technology programs by holding the event at Downtown Campus.
"Our club members and sponsors really believe in our mission of supporting Pima's Applied Technology programs and producing more graduates in the hands-on trades," said Gary Scheer, vice president of TSRA.
For Pima, the partnership offered a chance to support a local organization, connect with the community through a family-oriented event and bring multiple generations of potential students to a Pima campus, where they could tour the high-tech facilities. This year's visitors to the show will be able to tour the brand new Automotive Technology and Innovation Center, part of the Center of Excellence in Applied Technology.
Pima's Center of Excellence in Applied Technology
Pima's Center of Excellence in Applied Technology includes programs in Automated Industrial Technology (Robotics), Automotive, Aviation, Building and Construction, Computer-Aided Design, Energy Technology, Machining and Welding. A newly constructed Automotive Technology and Innovation Center is opening this year at the Downtown Campus as part of the Center of Excellence.
Learn more at pima.edu/centersofexcellence.
TSRA 46th Annual Rodders Days Car Show

9 a.m.-3 p.m., April 24
Downtown Campus, 1255 N. Stone Ave.
Free to the public, plenty of parking
To register to show a car: tucsonstreetrodassociation.net
Sponsors and vendors, contact Ken Burke, 520.282.3494