Pima students get real-world experience in Cybersecurity and Information Technology at new Center of Excellence
Imagine…
…getting a text at 2 a.m., informing you that your organization's servers are down and it's up to you to get them back up and running. You log in from home and get to work.
…infecting a computer with malware that appeared on the Dark Web a few weeks earlier, in order to figure out ways to defeat it.
…finding an "indicator of compromise" while checking the same global feed monitored by governments and major cyberwarfare organizations.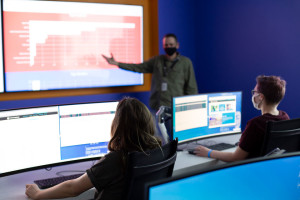 You know this means there's been suspicious activity, perhaps an attempt to log in to a computer system remotely from thousands of miles away. You analyze the threat, consult with experts and recommend action, such as contacting law enforcement.
At Pima Community College, students are living those experiences in new laboratories built to simulate such modern-day threats. They're learning about the world of Cybersecurity and Information Technology from the inside, in ways that will prepare them for meaningful, well-paying careers.
"Our Cyber/IT program philosophy is the same as in Automotive Technology. You can't teach mechanics to replace a transmission just by making them read a book," said Jim Craig, Pima's dean of Business and Information Technology. "Whether virtually or in-person, we are committed to creating living labs in which students will learn the skills employers value."
What makes Pima's program different
Students can choose from many Cyber/IT programs, offered online and in-person, that provide a theoretical foundation in the subject. Pima's program is different because, in addition to theory, it offers hands-on, real-world training that employers covet, but have trouble providing to their new employees.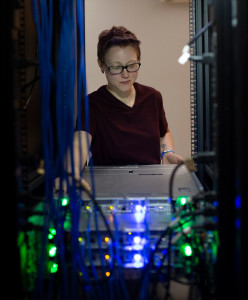 Companies aren't going to let entry-level hires gain experience by "banging on" the nerve center of their data systems, Craig said. But Pima graduates already will have had that experience, because the coursework, delivered online and through the Center of Excellence (CoE) in Information Technology and Cybersecurity, gives students an opportunity to get their hands dirty, literally and figuratively.
The CoE, at East Campus, 8181 E. Irvington Road, comprises four facilities:
Student-Run Data Center: A true seven-days-a-week, 24-hours-a-day computer center, complete with racks of servers running in real time with real databases. Students can work on computer components on benches in the rear of the center.
Cyber Security Operations Center: Walls of computer screens display cyber hotspots on a local, national or global scale. Students can connect to the same databases as major cyber corporations and the U.S. government.
Fusion Center: An interactive conference room where experts from a wide variety of industries and organizations can collaborate and exchange ideas.
Arizona Cyber Warfare Range: In collaboration with the Range, Pima is home to the only live-fire range – think real threats in real time  —  at a community college. It's where students will infect computers with malware. It's also where they can spend hours learning how to actually install and configure software so that it can
run hardware.
Open to everyone
Perhaps the No. 1 myth about Cyber/IT is that in order to benefit from training you need a background in STEM – Science, Technology, Engineering and Mathematics. (To read about more Cyber/IT myths, see page 8.)
Paralegal student Ivan Castro is proof you don't. At Pima, he is pursuing both a post-degree certificate in Paralegal Studies (he originally wanted to be a lawyer) and an Associate of Applied Science Degree in Cybersecurity.
Curiosity led him to join Pima's IT Club. Castro's "Eureka" moment came when his instructor in Pima's Introduction to Programming and Problem Solving course told the class that the IT sector needed subject matter specialists to communicate with less tech savvy industries, such as legal.
"Whether I work in the legal field or tech industry, I now know that I would be highly valued professionally if I combined my legal and computer skills," Castro said.
"The reality is that the Cyber/IT sector values an employee's experiences, whether they're founded in STEM or somewhere else. It will take a diversity of viewpoints and backgrounds to combat cyber threats that change literally every day," said Will McCullen, program manager for Pima's IT/Cyber Center of Excellence.
Job Growth on the rise Great Job potential
The projected job growth rate is 32% for Information Security Analysts from 2018 to 2028, according to the U.S. Bureau of Labor Statistics.
Centers of Excellence revitalizing our community
The Center of Excellence (CoE) in Information Technology and Cybersecurity, located on Pima's East Campus, is one of six CoEs being developed on Pima's campuses throughout metro Tucson with the aim of revitalizing our community.
The other Centers:
Applied Technology, Downtown Campus
Arts and Humanities, West Campus
Health Professions, West Campus
Hospitality and Tourism, Desert Vista Campus
Public Safety and Security, East Campus
"Our Centers of Excellence are being developed in partnership with area employers and with the insights of the community to prepare students for today's opportunities, tomorrow's challenges and the jobs of the future," said President of Campuses David Doré, Ed.D., who also serves as executive vice chancellor for student experience and workforce development.
Learn more at pima.edu/centersofexcellence.