Ask RYAN: Make a Class Schedule that Best Suits YOU!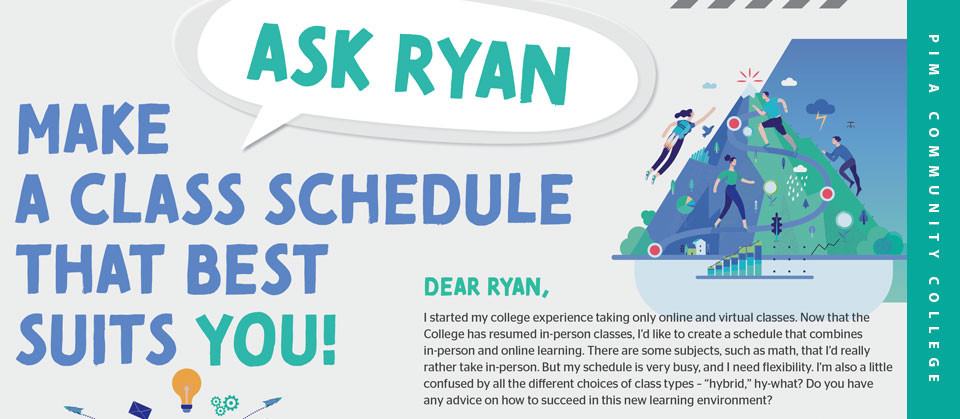 Dear Ryan,
I started my college experience taking only online and virtual classes. Now that the College has resumed in-person classes, I'd like to create a schedule that combines in-person and online learning. There are some subjects, such as math, that I'd really rather take in-person. But my schedule is very busy, and I need flexibility. I'm also a little confused by all the different choices of class types – "hybrid," hy-what? Do you have any advice on how to succeed in this new learning environment?
– So Many Choices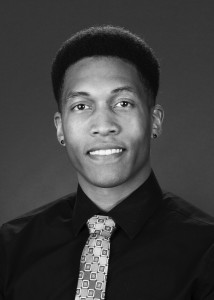 Many Choices,
Congrats on sticking with it during this challenging time! Pima Community College offers classes in a variety of formats to best suit your schedule and learning style
(see the accompanying box for an explanation of the different class types). I have a few strategies to help you with this modern but ever-evolving learning environment.
First, in this time of transition, consider the benefits of a hybrid class – which combines in-person and online learning. You can manage your own time, while still making those beneficial in-person connections with your instructors and classmates for lab or other hands-on assignments. Many hybrid class sessions are recorded and uploaded to D2L, the College's learning management system where you submit assignments and review the syllabi for your classes. In this new environment, you don't have to worry about missing anything because of scheduling conflicts. Re-watching a class is also a great way to review content if you believe you missed something.
Whatever type of class you take, communication is key. Email or speak with your instructor regularly to keep on track throughout the semester. Routinely check your Pima email and course announcements on D2L for updates. Reach out and ask questions prior to an assignment's due date.
Think about both your learning and scheduling needs while creating an educational program that works for you. Being able to select from a mix of hybrid, online, virtual, in-person and self-paced classes gives you flexibility and allows you to decide how you learn best for each subject you are studying. You may do fine studying a language on your own, but feel like you would do better taking a science class in-person (or vice versa).
Whatever options you choose, you maintain full access to instructors and the College's resources. Pima offers a combination of online and in-person student support services – tutoring, advising, library, testing and placement, and more.
Check them out at pima.edu/student-resources. Same-day call-back advising can be accessed at pima.edu/callback. Students can check out laptops, tablets and hotspots from campus libraries. Also, it's a good idea to follow the Library on Instagram
(@pimacommunitycollegelibrary) or Twitter (@pima_cclibrary) to learn about special events, contests, featured resources, and new and improved services.
You've got this!
Ryan
Pima's fall 2021 Class schedule includes a blend of:
In-Person Students attend lecture/lab on specified days and times.
Online Students complete class activities online on the dedicated PimaOnline platform and may have flexible meeting times.
Virtual Students attend live online meetings on specified days and times and complete additional work independently.
Hybrid Students receive instruction online and in-person.
Self-Paced In-Person Students work on campus each week at their own pace, in the room defined in the class schedule, with faculty guidance.
Self-Paced Independent Students work off campus at their own pace, with study materials prepared by College faculty.
Ryan Sermon is a Pima Admissions and Recruitment Program Coordinator.
Send your questions to [email protected]