Getting Everything from Here to There

From auto parts to vaccines – the complex world of logistics and supply chain management
By Ryan Sermon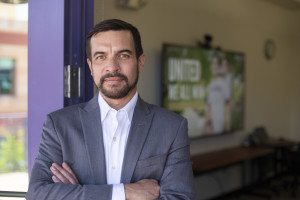 The COVID-19 pandemic impacted every industry that consumers rely on, which has placed a spotlight on Pima Community College's world-class Logistics and Supply Chain Management (LGM) program.
Over the past 18 months, businesses have faced increased challenges in getting everyday products to customers: food; toilet paper; hand sanitizer and personal protective equipment, to name a few. This March brought the Suez Canal logistical nightmare, when a hulking ship got stuck there for a week, halting billions of dollars in maritime commerce. Throughout the pandemic, hoard buying occurred – recall the shameful Toilet Paper Rush of 2020. And the historic U.S. Operation Warp Speed effort to create a vaccine and get it into the arm of everyone who wants one has pushed systems to their limits.
If these sound like interesting challenges, you can explore Pima's LGM program at pima.edu/logistics. The program examines a wide array of supply chain topics, from procurement to manufacturing, warehousing and transportation to computerized logistics and everything in between.
"E-commerce was up 77% during COVID-19 from the previous year," said Christopher Theriot, the program's lead faculty and disciple coordinator. "If not for the pandemic, it would have taken four to six years for e-commerce to reach that level! One of the most impactful results of the pandemic's strain on the global supply chain markets was the innovation needed to keep the world moving in spite of all of the difficulties. It forced us to discover new ways of doing things just to keep life going."
Interested in reading more?
See Career Focus Q&As with Christopher Theriot and Peter Newbegin at pima.edu/news/stories/from-furniture-to-food-cf-21.html.
A Variety of Employment Opportunities
The skill set used to solve such global problems, not surprisingly, can apply to many professions.
Peter Newbegin, impact and improvement director at United Way of Tucson and Southern Arizona, is a graduate of Pima's LGM program. Because his job focuses on improving educational outcomes and eliminating opportunity gaps in the community, people often are surprised when he tells them he studied logistics.
"Logistics is used to mean a lot of things. So, I think it opens a lot of opportunities for employment because most people translate that to coordination. Logistics management is the backstage of the global economy – the global movement of people, goods and information around the world."
Newbegin earned his associate in LGM at Pima before going on to earn a bachelor's in LGM from Northern Arizona University and a master's in Global Supply Management from the University
of Southern California.
"I've been working on how to implement improvement science in education. That comes directly from the field of logistics and supply chain management. We use continuous improvement and improvement science methodologies that come from logistics, production and manufacturing, and apply those to the education and nonprofit operation," he said.
He thinks of his work as creating a pipeline of school preparedness for students all the way through post-secondary education. The supply chain is students; the product is successful students and well-educated, grounded communities. The logistical challenge in the middle is the elimination of disparities in race and ethnicity to ensure that all students have equal opportunities for success.
"It's an innovative approach to school improvement." Newbegin said