Guys — jobs in nursing are in demand, pay well, and are critical to keeping everyone healthy. Interested?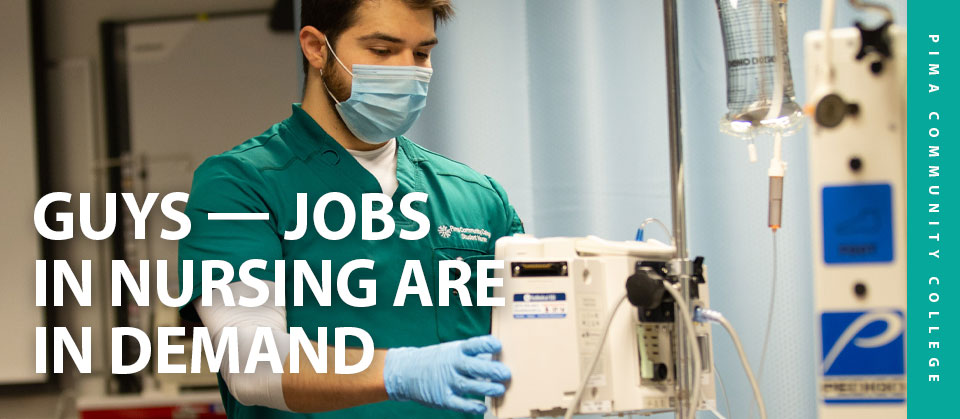 By Paul Schwalbach
The Nursing profession is looking for a few good men. Actually, they're looking for a lot of good men.
While the country is experiencing a national Nursing shortage that is only expected to get worse, this important sector of the economy still employs far more females than males. According to the U.S. Bureau of Labor Statistics (BLS), males constituted 12% of registered nurses in the U.S. in 2019. BLS projects that jobs in Nursing will grow by a faster-than-average 7% through 2029. And NurseJournal.org reports that the gap between available jobs and Nursing graduates will continue to expand.
"Nurses are at the heart of healthcare," said Yolanda McCoy-Stokes, acting dean of Pima's Critical Care Department. "Pima's Nursing program welcomes and values everyone who seeks a rigorous education so that they may join a profession whose rewards go far beyond a paycheck."
Career Focus interviewed three Pima Nursing students about their experiences as males aspiring to succeed in a profession whose practitioners have gone above and beyond in keeping everyone healthy during the COVID-19 pandemic.
Keaton Barker
Native Tucsonan Keaton Barker has been busy. He's 25, graduated from Marana High School, served in the U.S. Marines and became a paramedic. Now he's working on a degree in Nursing at Pima, and is planning to continue his education.
What happened after you left the military?
I returned to Tucson, attended Pima and got my EMT and Paramedic certifications. I work as a firefighter/paramedic with the South Tucson Fire Department. And I am an instructor in Pima's Paramedic program, teaching Tucson Fire Department and U.S. Air Force personnel.
How would you describe Pima's quality of instruction?
Pima is a great bridge to a university. The General Education instructors have been such a blessing. They care about your success. You get so much more out of smaller-group education in terms of connecting to other students, as opposed to a university class with 100 students, where you don't know the person to the left and right of you.
How does technology figure into your education at Pima?
We train on virtual simulation mannequins with heart rates, pulses, and lung and bowel sounds. As a paramedic, I appreciate it as a tool because it better prepares you for what actually is going to happen. You get your mistakes out of the way before it becomes a real issue.
Have you taken part in clinical rotations at area hospitals?
I am currently at Tucson Medical Center in the Med-Surg unit. It's the culmination of your Physiology training – you learn what can go wrong with someone and how to fix it.
How has your Paramedic training come in to play in your Nursing training?
I can speak the same language as the nurse. I know what the nurse is going to be doing. Good communication from a paramedic to a nurse saves time between the nurse and the doctor. It's imperative in cardiac arrest, chest pain and stroke cases.
What are your plans to further your education? I am working on a concurrent bachelor's degree at Arizona State University and hope to come out with associate and bachelor's degrees in Nursing.
What's your career goal?
I want to be a flight nurse, or a nurse practitioner in an acute-care setting.
What has your experience been as a male in Nursing?
You are definitely the elephant in the room. The unicorn. You are the one male in a room of females. But compassion and a desire to serve is not gender-specific. Nurses are the backbone of a hospital. I'm starting to see more "nurses," and I have learned a lot from other males in clinicals.
Vinny Jordon
Vinny Jordon is a graduate of Phoenix's Agua Fria High School who moved to Tucson in 2013 to attend the University of Arizona, majoring in Art History. Like many students, he switched programs, receiving a bachelor's degree in General Studies in 2016.
That led to a manager position at a local outlet of a national cosmetics company, where he intended to climb the career ladder. The passing of his grandfather led him to rethink his priorities, and he switched gears to pursue a Nursing career.
He explored various university programs built for bachelor's degree holders, but found them to be prohibitively expensive and too accelerated for his taste; one program could be completed in one year, with no summer or winter breaks.
"I didn't want to have to blaze through a Nursing program," he said, adding that he found the vibe at the university programs to be a little less welcoming than he preferred. So he chose Pima.
How would you describe Pima's quality of instruction?
I have yet to have a negative experience with faculty. At UArizona, at the undergraduate level, all instructors are graduate students. Here my teachers are professors.
What's it like learning to be a nurse?
We get a lot of hands-on training in specialties – obstetrics, pediatrics. Imagining giving birth was wild.
This semester we were at the Banner Health-University Medical Center main campus, in the medical oncology unit. It's very intense. We've seen patients with serious medical problems that require a rapid response – you've got 10 people flying into the room because the patient might have been having a stroke, or their blood pressure was tanking. It's about trying to find out what's wrong with the patient, and do it fast.
What are your plans to further your education?
After graduating from Pima this year, I hope to finish my master's degree in Nursing from Grand Canyon University in 2022.
What's your career goal?
I want to go into Nursing education. I would like to teach.
What has your experience been as a male in Nursing?
Personally, I haven't experienced differences in treatment … There's no stigma.
Luis Denogean
Luis Denogean was born in Mexico, has been living in Tucson for 13 years and attended Amphitheater High School. He started at Pima immediately after graduating from Amphi.
Why Pima?
I really like Pima's class ratio (student-instructor ratio is 19:1). The instructors take the time to really explain things and really care about their students. It is affordable, which is the best part. (Pima's in-state tuition for 2021-22 is $87 per credit-hour, the same tuition it has charged for the past two years.)
How would you describe Pima's quality of instruction?
Everyone's really knowledgeable. They always guide you on the right path. Facilities are great;
I took classes at almost every campus.
How has COVID-19 affected your learning?
It affected my Nursing education because we did not get to do in-person clinicals. But Pima did a great job handling the situation. They gave us all the resources needed to succeed. I don't really like online classes, but I had to adapt to the situation. It's honestly been better than what I expected.
What are your plans to further your education? I want to attend either Arizona State University or Grand Canyon University to obtain a bachelor's degree in Nursing. My optimal goal is to become a nurse practitioner.
What's your career goal?
I would like to be a pediatric oncology RN and provide the best quality care, be supportive, bring hope, and make the kids' experience a little better.
What has your experience been as a male in Nursing?
Sometimes you are the only male in a group, but it's been great. Everyone treats you with respect.
Why is it Important to Recruit Men to the Profession?
To help solve the overall shortage of nurses
Gender inclusion – Males and females bring different perspectives and benefits to nursing
Studies have shown some people prefer to be cared for by someone of the same sex
On whole, men are stronger, which is a benefit when a patient needs to be moved
Source: Journal of Nursing – "It's Time To Recruit More Men Into the Profession of Nursing"
Median annual wage for RNs in 2020 was $75, 330 far above the U.S. median for all jobs of $56, 310.