Lessons from the Pandemic: Pima and its students adapted and innovated

Technological advances for a better student experience
How do you provide student services when students aren't allowed on campus? By solving that problem during the pandemic, Pima improved the overall student experience.
"COVID-19 accelerated the need for technological innovation," said David Arellano, Pima's dean of Enrollment Management. "We had to reconfigure our technology to support remote access to student services."
Before COVID-19, students needing to speak to an advisor would go to a campus Student Services Center and sign in to QLess, a line management system. Once in the virtual queue, they would receive text notifications indicating their place in line, an approximate wait time and when an advisor was available to serve them.
When the pandemic hit, the College suspended face-to-face services and transitioned to callback queues for its student services, which allowed students to receive a callback when an advisor was available to help them.
"This technology has proved to be extremely beneficial," Arellano said. "It helps staff serve students more efficiently, resulting in an improved student experience."
It also allows students to provide feedback via text message surveys to help improve Pima's services. According to a recent survey, 98% of the respondents appreciated the fast, easy and prompt service, and said they wanted to continue with the virtual callback option in the fall.
"Even after physical distancing requirements end, callback queues will remain beneficial," Arellano said earlier this year. "Especially since students can sign up using their phone and get their questions answered — without having to step foot on campus."
Create a daily schedule
For Pima Community College sophomore Hannah Irwin, an aspiring nurse practitioner, online classes have been the only way she has experienced college.
"I had to create a daily schedule for myself," she said. "After I got a routine going it was easier and I was able to be productive."
Irwin graduated high school in 2020 and enrolled at Pima planning to pursue an associate and a bachelor's degree through Pima's Nursing Concurrent Enrollment Program through Northern Arizona University. Now, she is completing her prerequisites.
"Even though I haven't been able to meet any of my classmates in person, I wouldn't have been able to get through this year without them," she said.
New habits she plans to continue include taking walks while listening to some lectures and electronically taking notes and making flashcards.
"My typing skills have improved so much over the past year," she said.
Irwin, who is president of the Diversity and Inclusion Club, also attended several of the Office of Diversity, Equity and Inclusion's virtual meetings on social justice.
"I feel like this past year has been a lesson in flexibility and adaptability for me," Irwin said. "I think now I'm able to better deal with whatever challenges come my way."
Modernizing how Pima does testing and placement
When Pima's Testing Centers re-opened for in-person testing about six months into the pandemic, they did so with utmost caution – even sanitizing and labeling pens as "used" and "clean."
Such extreme precautions will be gone in time, but a new way of placing students into the appropriate reading, math and writing courses will continue.
Before the COVID-19 pandemic hit in March 2020, the College's five testing locations were seeing about 54,000 students annually for proctored placement tests needed for admission, GED® exams, and academic and certification exams.
"It was all in-person. We weren't doing any sort of virtual proctoring or any form of virtual placement," said Placement Coach Marcos Ameneiros. "We didn't have a way to get students into Pima without placement tests, except on occasion with a recent high school grade point average."
"Suddenly going to a virtual environment was a shock and we had to think fast," said Chelsea James, director of College Testing and Placement. "The Testing and Placement Team had daily virtual meetings at first to figure out how we could continue to serve students in the absence of in-person services. Faculty leadership was quick to approve PimaEdReady, an academic diagnostic, and expand Multiple Measures for class placement. We began training staff to proctor virtually."
Under Multiple Measures, students consult with placement coaches for placement into college math, reading and writing courses based on their high school transcripts (including ACT® or SAT® scores) if they've completed at least six semesters in high school or completed a GED® in the past five years. If it has been longer or if they want to take the test to place in a more advanced class, they can take the unproctored PimaEdReady online. Summer and fall data shows that the new placement measures are proving to be good predictors of student success in classes. Moreover, students are enjoying the one-to-one guidance of  knowledgeable placement coaches, James said.
"We're changing the culture of how we evaluate class placements," Ameneiros said.
The in-person Testing Centers now are set up primarily to proctor essential certification exams for workforce and GED® tests, and paramedics, K-12 teacher, dental assisting, and IT certifications, as well as serve those with accommodation and access issues, James said. However, hours and services are expanding this fall. Find Testing and Placement at pima.edu under Student Resources>Student Support or contact staff at [email protected] or 520-206-6648.
Writing faculty sees compassion, connection as keys to teaching success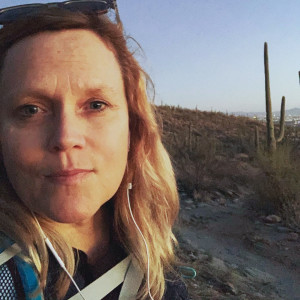 As the pandemic took hold, instructors, not just students, had to learn the basics and nuances of online and virtual classrooms.
"In the classroom, I enjoy reading and responding to visual cues from students' expressions and body language," said Pima Writing faculty Frankie Rollins. "In contrast, (on Zoom) the mixture of faces and black squares and voices really throws me off."
She said one of the biggest teaching challenges of her career was producing the national award-winning SandScript Art and Literature magazine in digital-only form. She listened to students' fears, extended deadlines and paid careful attention to emails from students sharing their problems – habits she will continue in the new normal. She let her students teach her the way they needed her to be.
"It's the students' artwork as well as watching the blooming and growing of the student editorial staff that keep me going," Rollins said. "It's always the students that keep me going."
"We are learning some massive collective lessons that are altering the world we all share forever. In truth, the students will lead us into this new world," she said, also praising her colleagues for their flexibility, kindness and innovation.